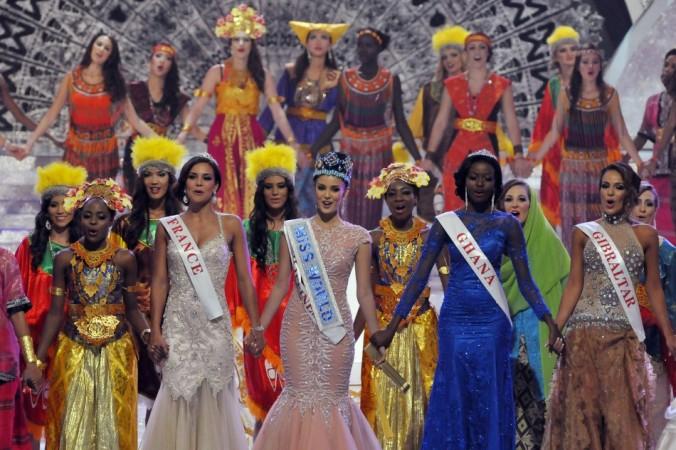 Miss World 2014 to be hosted by ExCeL London will take place on 14 December, 2014 in London, UK. Last year's title holder Megan Young will crown the winner at the grand finale.
A total of 77 contestants have been confirmed to compete for the coveted Miss World title. The winner is not only bestowed with the crown but also is required to do charitable work for the benefit of different communities.
Julia Morley created "Beauty With Purpose" organisation in 1972. Since then millions of pounds have been raised to help the disadvantaged. The winner of Miss World 2014 will have to dedicate a year travelling and working for the cause of the organisation.
Last year's winner Young was the first Filipina beauty to win the crown. She has been travelling across the world for the benefit of the organisations and is taking vital steps towards bringing a change.
"Aside from winning, it also has a lot of meaning to me. All that hard work that I put into it was really paid off. But aside from that, before I always wonder, what is my purpose? What am I going to do in future with my life," said Young in her interview post winning the title, adding, "And then during that night from Miss World, I just knew from that moment on what I wanted to pursue. I knew that I could use my skills, my voice and my knowledge to help people and that really means a lot to me."
Here is list of 77 contestants who have been confirmed for Miss World 2014 contest:
Miss Argentina, Yoana Don
Miss Australia, Courtney Thorpe
Miss Austria, Julia Furdea
Miss Bahamas, Rosetta Cartwright
Miss Barbados, Zoe Trotman
Miss Belarus, Viktoriya Miganovich
Miss Belgium, Laurence Langen
Miss Bermuda, Lilian Lightbourn
Miss Bolivia, Andrea Forfori
Miss Brazil, Julia Gama
Miss Cameroon, Larissa Ngangoum
Miss Canada, Annora Bourgeault
Miss Cape Verde, Cristy Spencer
Miss Colombia, Jessica Leandra Garcia
Miss Cote D'Ivoire, Jennifer Yeo
Miss Curacao, Gayle Sulvaran
Miss Cyprus, Ionna Filippou
Miss Czech Republic, Tereza Skoumalova
Miss El Savador, Larissa Vega
Miss England, Carina Tyrrell
Miss Equatorial Guinea, Agnes Genoveva Cheba Ade
Miss Fiji, Charlene Tafunai'i
Miss Finland, Krista Haapalainen
Miss France, Flora Coquerel
Miss Gabon, Pulcherie Nze Nzoughe
Miss Georgia, Ana Zubashvili
Miss Gibraltar, Shyanne Azzopardi
Miss Greece, Eleni Kokkinou
Miss Guadeloupe, Wendy Metony
Miss Guatemala, Keyla Bermudez
Miss Guinea, Halimatou Diallo
Miss Guinea-Bissau, Maila Da Costa
Miss Guyana, Rafieya Husain
Miss Honduras, Maria Jose Alvarado Munoz
Miss Hongkong China, Grace Chan
Miss Hungary, Edina Kulcsar
Miss India, Koyal Rana
Miss Indonesia, Maria Asteria Sastrayu
Miss Ireland, Jessica Hayes
Miss Israel, Mor Maman
Miss Italy, Silvia Cataldi
Miss Jamaica, Laurie-Ann Chin
Miss Japan, Hikaru Kawai
Miss Kazakhstan, Aiday Isaeva
Miss Lavia, Liliana Garkaline
Miss Malta, Joanna Galea
Miss Mauritius, Sheetal Khadun
Miss Mexico, Daniela Alvarez Reyes
Miss Moldova, Alexandra Caruntu
Miss Namibia, Brumhilda Ochs
Miss Nepal, Subin Limbu
Miss Netherlands, Tatjana Maul
Miss New Zealand, Arielle Garciano
Miss Nicaragua, Maria Esther Cortes
Miss Nigeria, Iheoma Nnadi
Miss Northern Ireland, Rebekah Shirley
Miss Panama, Raiza Erlenbaugh
Miss Peru, Sofia Rivera
Miss Poland, Ada Sztajerowska
Miss Portugal, Catarina Sikiniotis
Miss Russia, Yulia Alipova
Miss Scotland, Ellie Mckeating
Miss Serbia, Milica Vuklis
Miss Seychelles, Camilla Estico
Miss Slovakia, Laura Longauerova
Miss South Africa, Rolene Strauss
Miss Sweden, Olivia Asplund
Miss Switzerland, Aline Morger
Miss Tanzania, Happiness Watimanya
Miss Thailand, Maeya Nonthawan Thongleng
Miss Trinidad & Tobago, Sarah Jane Waddell
Miss Tunisia, Wahiba Arres
Miss Turkey, Amine Gulse
Miss United States, Elizabeth Safrit
Miss US Virgin Islands, Anika Tonge
Miss Venezuela, Debora Menicucci
Miss Wales, Alice Ford