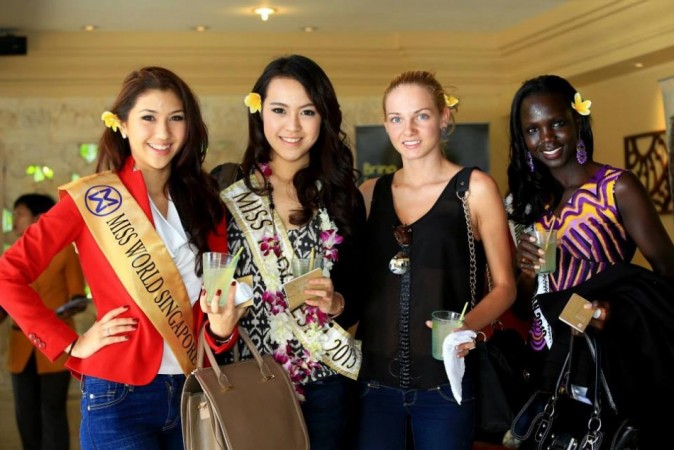 The 63rd edition of the Miss World pageant which is due to take place on 28 September in Indonesia has come under the ire of conformist Indonesian Muslim groups and clerics demanding a ban on the competition citing unnecessary skin show.
Miss World 2013, which is to be held in Bali and Jakarta, has run into troubled waters as the nation's Muslim hardliners have voiced strong opposition against the beauty pageant calling it an offence to Islam.
"Our position is clear; we reject Indonesia being the host of Miss World because exposing their bodies in a contest is against Islamic teachings," Chairman Amidan Shaberah of Indonesian Ulema Council was quoted as saying by Associated Press (AP).
Protests were reported in the Muslim-dominated nation with placards stating, "Reject Miss World that exploits women", "Go to hell Miss World" and "Boycott Miss World Sponsors."
However, despite the tense situation in the country, the pageant contestants were seen arriving in the eastern continent and posing happily for the shutterbugs.
A record of 131 contestants from around the globe has been confirmed to be participating in the world class contest. The contestants will be seen contesting for various titles like Beach Fashion, Top Model, Sports and Fitness, Beauty with a Purpose, Talent Competition and the World Fashion Designer Award over the month, before the finale at Sentul International Convention Centre in Jakarta.
On Tuesday, representatives from Ireland, Austria, South Sudan, Poland, Singapore, Bulgaria, Cameroon were spotted flying down to the country to participate in the 28 September extravagant event.
However, giving into the pressure of the dominant religious groups against the contest, the pageant sponsors are said to have dropped the 'Bikini Round' from the competition.
Julia Morley, chairwoman of the Miss World Organisation, has reportedly confirmed that no contestants would be flaunting the two-piece bathing suit.
Instead, the contestants might be seen donning a traditional Balinese sarong and blouse in the Beachwear round.
Despite the tone-down, there is stiff opposition as many believe that judging a woman by sheer physical and facial aspects is degrading and goes against traditional Indonesian culture and norms.