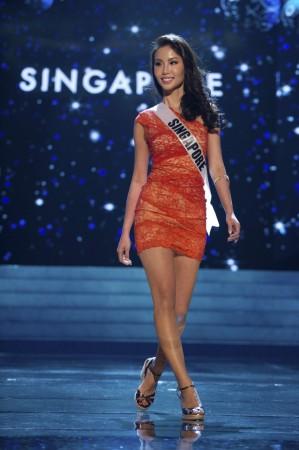 Beautiful women from around the world will compete for the coveted Miss Universe 2012 title at Planet Hollywood Resort & Casino in Las Vegas, Nevada on Dec 19.
The international beauty pageant will be telecast live at 8pm on NBC in the US. Zee Studio will bring the show live to Indian viewers between 6:30am and 8:30am on Thursday (20 Dec).
[PHOTOS OF MISS UNIVERSE CONTESTANTS REHEARSING FOR GRAND FINALE]
The 61st Annual Miss Universe 2012 pageant will see 89 contestants competing for the title. Television personality Andy Cohen and news anchor Guiliana Rancic will host the two-hour show.
Miss Universe 2011 Leila Lopes of Angola, who championed for HIV/AIDS prevention during her reign, will crown the new Miss Universe at the grand finale on Wednesday night.
Shilpa Singh, the winner of "I Am She Miss Universe 2012," will represent India at the pageant. She was first the runner-up at the Miss India pageant but was later announced the crown holder after the original winner, Urvashi Rautela, relinquished her title following a controversy about her age.
Singh, a 23-year-old software engineer from Bihar, will compete with 88 other contestants and will wear a creation from designers Anjalee and Arjun Kapoor for the finale.
It has been over a decade since India last brought home the Miss Universe title and people's expectations from Shilpa Singh are high. Bollywood actress Lara Dutta was the last Indian to be crowned Miss Universe in 2000.
[PHOTOS OF MISS UNIVERSE CONTESTANTS REHEARSING FOR GRAND FINALE]
[STUNNING PHOTOS OF MISS UNIVERSE 2012 CONTESTANTS IN SWIMWEAR]