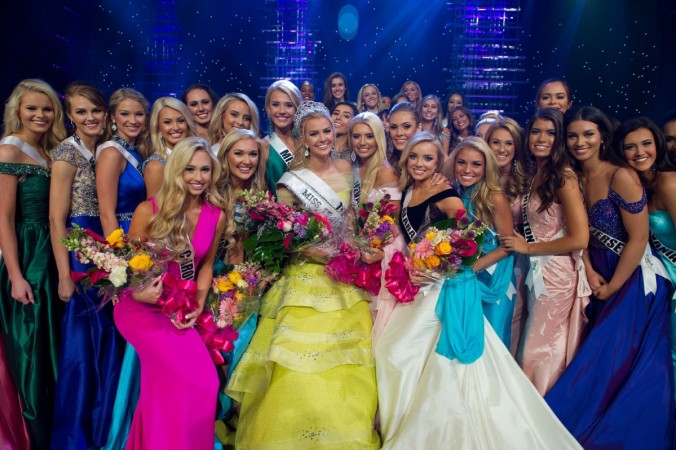 The 2016 Miss Teen USA pageant has been marred by controversies, and most of it has to do with racism. Winner, Miss Teen Texas, Karlie Hay was one among the five finalists of the pageant, and all of them were light-skinned, blue-eyed beauties, leading many to comment on the lack of diversity. Now, the winner herself is being criticised for using the n-word ever so casually.
Diversity has been an age-old been a problem in mainstream US entertainment, and many on social media were quick to point out that Miss Teen USA is doing nothing, but perpetuating the idea that white and only white is beautiful. Model and host Chrissy Teigen tweeted in response to the top 5 contenders, "Wow how can we choose from such a diverse bunch."
The official Facebook page of Miss Teen USA was also flooded with comments like, "No plus size girls, no short girls no girls with acne! These aren't your typical teenage girls in the USA! It's a joke." Meanwhile, in response to a group photo [pictured on top] of all the contestants from the 2016 Miss Teen USA, people commented, "They got like 50 shades of white and white girls with fake tan and one black girl all the way in the back. Smh this show is ugly and their winner needs to be taken their crown away."
Now, to top it off, the winner of the competition has been accused of using the n-word way too casually. The tweets from Karlie Hay's Twitter handle from as early as July 2013 and January 2014, suggests that 17-year-old Karlie was quick to using derogatory slurs on social media.
Here's the winner of #MissTeenUSA pic.twitter.com/L0volbvEmW

— josh (@VaultJosh) July 31, 2016
This obviously has triggered yet another controversy for the Miss Teen USA 2016, with even past winners criticising the event.
I can take the #missteenusa top 5 being an all white, all blonde top 5. What I can't take is - why didn't the winner clean up her page? — Kamie Crawford (@TheRealKamie) July 31, 2016
Karlie herself has released a statement admitting to her foulmouthed past, and has said that she is no longer that person. "Through hard work, education and thanks in large part to the sisterhood that I have come to know through pageants, I am proud to say that I am today a better person. I am honoured to hold this title and I will use this platform to promote the values of The Miss Universe Organisation, and my own, that recognise the confidence, beauty and perseverance of all women."
It is understood that Miss Teen USA will not be stripping Karlie of her title. See photos of Karlie's crowning ceremony here: