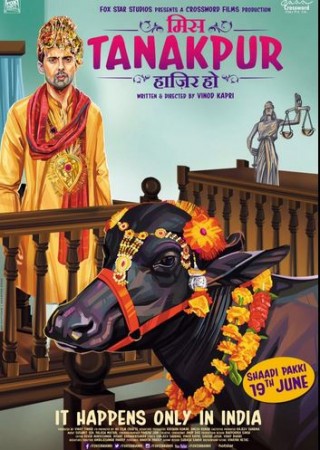 IBTimes India Rating: 1
"Miss Tanakpur Haazir Ho" is a movie you could recommend to 'that guy' who stood you up on a first date. Irresponsible and not worthy of your time, this social satire falls flat on its face.
The Vinod Kapri directorial is about Arjun (Rahul Bagga) and his not-so-secret affair with village pradhan Sualaal Gandass' (Annu Kapoor) young wife Maya (Hrishitaa Bhatt), for which he is falsely accused of raping Gandass' buffalo.
There are a few plot points, which could have worked in the film's favour but it ends up losing it all to the forced and stretched gags. The script wanders pathetically around the central theme for almost all of first half making it a snooze fest.
The thinly crafted characters are impressive in isolation, but fail to recover the nose-diving narrative. The actors are an excellent bunch, but couldn't do much to salvage the poorly-written story.
Sanjay Mishra (Pandit Ravi Kishanas Bheema) as the phoney priest and Om Puri as the dimwit inspector Matang Singh are convincing.
Sure Kapri riddled the 'true story' with numerous flaws, but his brave attempt at executing such a tricky topic needs a special mention. Yogesh Jani's cinematography, which captured the rustic charm of a village in the most stellar way possible, partially made good the loss.
Takeaway: Watch it while gently perching your fingers over shift and right arrow keys.