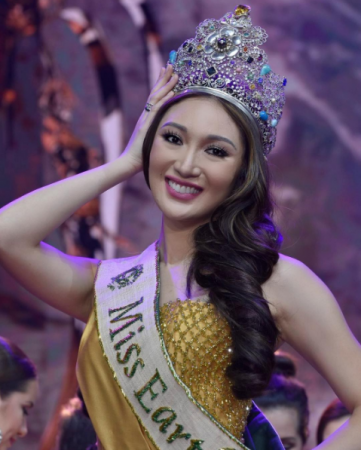 The Mall of Asia Arena in Pasay City was brought to life when Miss Philippines Earth 2017 Karen Ibasco was crowned the Miss Earth 2017 on November 4.
The 26-year-old beauty pageant contestant was brought to tears when the panel announced her name and the arena cheered for her.
The Filipina contender succeeded Katherine Espin of Ecuador, who was Miss Earth 2016.
Dressed in a gorgeous golden gown, Ibasco was adorned with the crown by Espin soon after she was declared the winner.
Nina Robertson from Australia was named Miss Earth Air 2017, Miss Earth Fire 2017 was awarded to Lada Akimova from Russia, and Miss Earth Water 2017 crown went to Juliana Franco from Colombia.
Also Read: Miss World 2017: When is it; where and how to stream online
Ibasco won the judges' hearts when she chose to talk about biodiversity in the EarthTalk segment.
Addressing the issue, she said: "Biodiversity is very important. We are known in the Philippines to have a lot of biodiversity, and they're very important because they also balance the ecosystem. It's very important for us to protect them because, as we protect them, we protect the environment to help save our home, our planet, our Earth, to be a better place to live in. Thank you." (as reported by Business Mirror.)
The 26-year-old also won hearts online when she answered the question: "Who or what do you think is the biggest enemy of Mother Earth and why?"
She said: "I believe that the real problem in this world is not climate change. The real problem is us because of our ignorance and apathy. What we have to do is to start changing our ways, to start recalibrating our minds and redirecting our steps because together, as a global community, our micro-efforts will have a macro-effect to help save our home, our planet."
Here are a few things to know about the Miss Earth 2017 winner:
- She is a physicist: Ibasco has majored in physics and is a university instructor. She studied applied physics and medical physics at the University of Santo Tomas.
- She was the dark horse in the Miss Philippines Earth contest. However, she shocked the country when she won the title in July this year and has now made the country proud by winning the title.
- She doesn't want to be an actress but would love to host. Talking to the press after winning the crown, she said: "No, I don't have plans to do showbiz but I would want to enter the world of hosting."
- Before winning the title, Ibasco won three gold and two silver medals in the pre-pageant competitions, giving her the lead in the event.
She won gold for the Asia Pacific National Costume category, Darling of the Press, and Group 2 Swimsuit Competition.
Her silver medals were courtesy Resorts Wear Competition and Long Gown Competition.
- This isn't the first time she participated in a beauty contest.
Rappler reveals that Ibasco participated in Bb Pilipinas 2016 (a Philippines-based beauty pageant that short lists contestants for four major contests including Miss World and Miss Universe).