Mira Rajput has totally embraced motherhood ever since she gave birth to Misha on August 26, 2016. She has been living her new phase of life to the fullest by taking up the role of a mother.
While Mira had decided long ago to become a housewife and take care of her family and watch her baby daughter grow every day, the doting mother is also making sure to let her daughter experience every small thing that life is offering to her.
Recently, Mira Rajput took her daughter Misha to a farmer's market where the little munchkin was seen playing with all the fresh veggies trying to figure out what these things exactly are.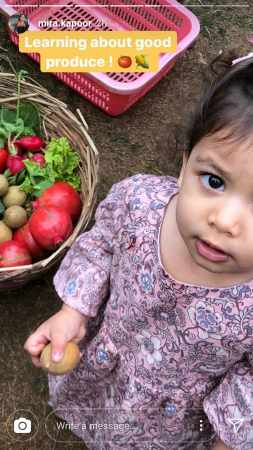 Misha was looking adorable in her pink floral frock with her hair tied in a double pony. She looked completely baffled when Mira clicked her pictures while she was enjoying her me time on the farm.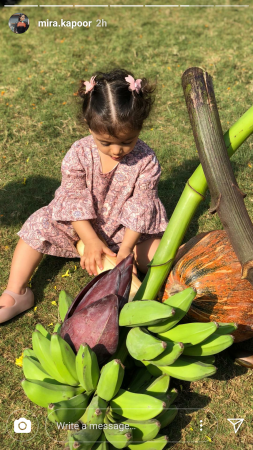 Recently, Mira along with her bundle of joy was spotted having a fun time at a garden playing on the slides and the swings. But soon she lost her cool when paparazzi tried to click Misha's pictures while playing.
"Guys please be kind. Let kids enjoy their childhood and leave the photographing to the parents," she wrote on her Instagram story.
While Mira and Shahid always guarded Misha from the shutterbugs, Mira soon figured out that it was impossible for her to keep her daughter away from the prying eyes.
"As far as media attention is concerned, I know it's going to happen. I can't keep Misha behind closed doors all the time. I want her to have a normal childhood. I want her to know that she has the privileges that she has because of her father. She has to respect that. I just hope that she doesn't get swept away by the tide.Obviously, I want to share what Misha does with my family and friends. Shahid also wants to do so with his friends and family. She is our pride, but there is always a line. I want to protect her as much as I can," Mira had said in an interview.
She also spoke about how Shahid Kapoor is as a father. "Shahid's relationship with Misha started right from the moment when he got to know that I was pregnant. Fatherhood comes naturally to him. He is fully involved and he changed her diaper even before I did. Shahid wants to be connected to her always and I think that's great. Misha is going to have him wrapped around her little finger," she said.