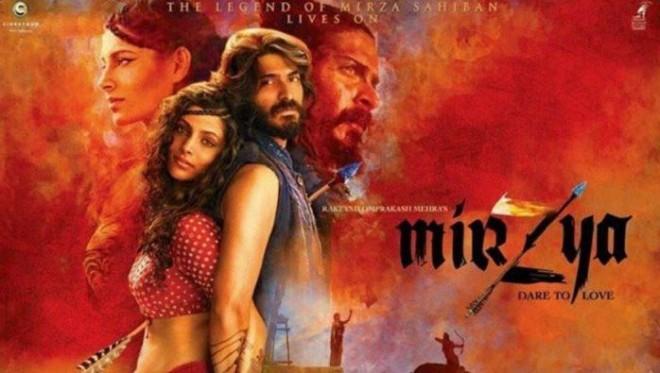 RATING: 2.5/5
Bollywood is mostly known for making masala entertainment movies but there is another not-much-explored genre of art cinema. Mirzya somewhat falls under the second category but with some visual extravaganza. Starring debutants Harshvardhan Kapoor and Saiyami Kher, the movie Mirzya is a love story which director Rakeysh Omprakash Mehra presented in an unorthodox manner.
A boy and a girl, who are best friends, get separated during childhood due to a mishap. The girl belongs to a well-to-do family and thus is send abroad for studies while the poor lad remains in the home land, waiting for the girl. She returns but her marriage is already fixed with a charming prince.
However, after recognising her childhood friend, who now is a caretaker of the prince's horses, she falls in love with him and then starts the entire drama. Although the story of Mirzya appears to be very commonplace, the director is good enough to present it in a never-seen-before way.
Harshvardhan plays the character of the poor boy and Saiyami is his love interest. Anuj Choudhury appears as the prince Karan. Based on the popular Punjabi folklore of Mirza Sahiban, the film Mirzya is a musical drama. The director showed the entire movie by shuffling the two lead characters between two eras; one presents the love story of the folklore and the other narrates the tale of the film characters.
Rakeysh Omprakash Mehra is known for his narrative skills and he has shown his expertise in Mirzya as well. Mirzya is quite exceptional in terms of cinematic art but the movie gets too slow at certain points, which the director should have taken care of.
The main USP of the romantic drama is the stunning visuals and the beautifully fitted transitions that the director incorporated to establish the link between the two eras. Harshvardhan and Saiyami did a commendable job as far as acting is concerned, and their debut performance is likely to get well-noticed. All the other characters also did justice to their roles.
There are as many as 15 tracks, including six short songs which are played in between shots to help the narration. Although most of the songs are soothing, listening to them in quick intervals may appear irritating to some of the audience.
Rakeysh Omprakash is best known for critically as well as commercially acclaimed films like Rang De Basanti and Bhaag Milkha Bhaag but his latest release fails to match the level. In a nutshell, Mirzya is a slow yet beautiful film that will be liked by artistic cinema lovers but it is definitely a no-no" for the audience who seek just entertainment.