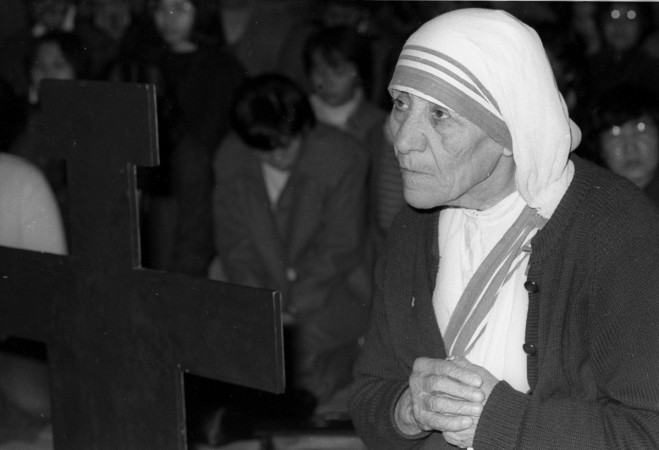 Mother Teresa, popularly known as the "saint of the gutters" and was declared "blessed" by the Vatican earlier, will be elevated to a saint on Sunday as all the steps to her canonisation have been fulfilled. Head of the Catholic church Pope Francis will be performing the ceremony of canonisation.
The nun has been honoured with multiple awards, including the Nobel Peace Prize. However, what is it about her that the Vatican decided to make her a saint.
To know about how someone becomes a saint, read this.
Apart from the steps where someone is declared as servant of god, then venerable and finally blessed. The apex church also needs to acknowledge two miracles performed by the person to be declared a saint.
Mother Teresa's first miracle:
The first miracle performed by her was accepted as a "miracle" five years after her death. Pope John Paul II had accepted the miracle.
It is believed that she cured a Bengali woman Monica Besra of a tumour in her stomach. The Vatican commission said that the woman recovered after a locket with Mother Teresa's picture was placed on her abdomen. The woman had said that a beam of light fell from the picture to her stomach and removed the tumour.
Mother Teresa's second miracle:
In 2015, Pope Francis accepted her second miracle. A Brazilian man Marcilio Haddad Andrino, suffering from several brain tumours in 2008, claimed that he was cured after his wife prayed to the nun for months.
Andrino had been diagnosed with viral brain infection resulting in multiple abscesses. The doctors had not been able to find a cure to the disease and he was in coma in December 2008.
The man's wife and her family had prayed to the nun profusely and when he was taken to the operation theatre, the surgeon reportedly found him awake.
"If it hadn't happened to me maybe there would be someone else tomorrow. She did not distinguish. I don't feel special," said Andrino before Mother Teresa's canonisation ceremony.