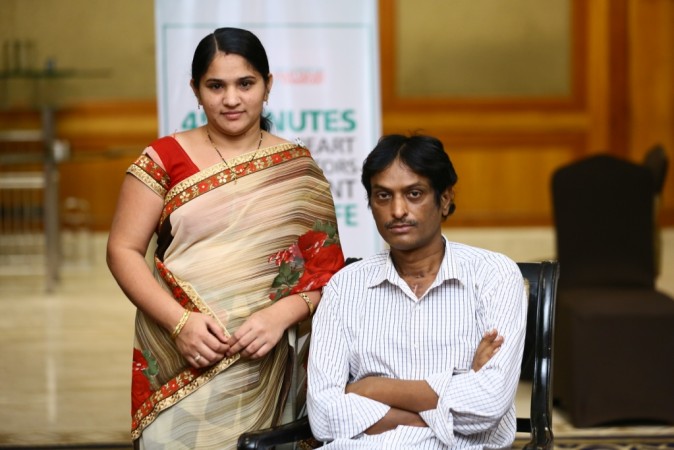 In a breakthrough procedure conducted at Fortis Malar hospital, Chennai, Jaysukhbhai Thaker, a 38-year-old patient from Gujarat, almost experienced rebirth when doctors revived his heart, 45 minutes after it had stopped beating.
Thaker, who was discharged from the hospital on Tuesday, had developed severe complications and his heart stopped beating while he was awaiting a donor heart. After doctors revived his heart with the technology-backed treatment, Thaker went into coma for 10 days, after which he woke up.
"I feel I have got a new lease of life," Thaker said.
A team of doctors led by Dr KR Balakrishnan, the Director of Cardiac Sciences at Fortis Malar Hospital, performed the life-saving procedure called Extracorporeal cardiopulmonary resuscitation (ECPR) on the patient, an official statement said.
The therapy involves supporting patient with a portable heart and lung machine and bringing down the temperature of the human body to protect the brain during cardiac arrest. Through ECPR, the patient's blood is allowed to pass through an external device to provide oxygen.
Thaker was suffering from dilated cardiomyopathy leading to end-stage heart failure. He was airlifted from Porbandar and admitted to Fortis Malar Hospital for a possible heart transplant. After being stabilised with medications, he was shifted to a ward.
When the patient's heart stopped beating, the doctors immediately started Cardiopulmonary resuscitation but the patient was unresponsive for over 45 minutes, and for all practical purposes, dead, according to the statement.
The doctors then started the ECPR treatment and he was put on a portable cardiopulmonary bypass machine called ECMO (extracorporeal membrane oxygenator) due to which his heart finally started beating after 45 minutes, although he remained unconscious for 10 days. The doctors then inserted an artificial heart pump or Left ventricular assist device (LVAD) called Centrimag to support his heart.
Thaker later underwent a heart transplant after a Hyderabad-based hospital gave him the donor heart from a brain-dead patient.
"The patient made a steady recovery post the surgery and is now leading a normal life. While mechanical CPR was performed on the patient, ECMO was introduced to revive his heartbeat," KR Balakrishnan said. He added that though the procedure was technically difficult and challenging, it is a promising new technology in situations deemed to be uniformly fatal.
" We have increasingly started using ECPR for 'in hospital' cardiac arrest with very good outcomes and are exploring the possibility of extending it to other locations, including outside the hospital, as is done in a few places around the world, like Japan, San Diego and Taiwan," he said.