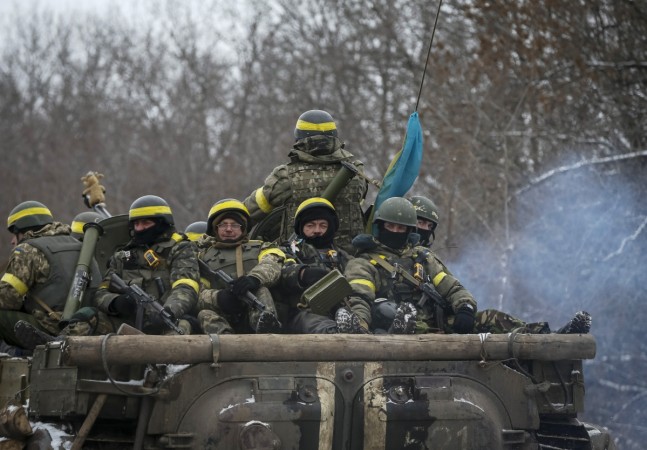 A ceasefire agreement to end the ongoing fighting in East Ukraine between Ukrainian troops and pro-Moscow separatists, and withdrawal of heavy weapons has been reached ahead of talks between leaders of Russia, Germany, France and Ukraine in Minsk.
The contact group that includes representatives of Ukraine, pro-Russian rebels, Russia and the Organisation for Security and Cooperation in Europe (OCSE) has agreed for the withdrawal of heavy weapons and a "ceasefire regime", Russia's TASS News Agency quoted an unnamed source as saying.
"The Minsk talks have squared a scheme of withdrawal of heavy weapons," the source said, adding, "The parties have also agree (sic) a ceasefire regime and control over its observance. The sides also discussed local elections and Donbass' state structure, its form of government."
Talks between leaders of three countries for reaching a "peace deal" in East Ukraine are scheduled to be held in the Belarusian capital on Wednesday, and news of the ceasefire came hours before the start of the summit.
German Chancellor Angela Merkel, French President Francois Hollande, Russian President Vladimir Putin and Ukrainian leader Petro Poroshenko will be meeting to seek an end to the Ukrainian conflict.
Meanwhile, the White House has said President Barack Obama called Vladimir Putin to discuss the crisis ahead of the Minsk meeting.
The US president "underscored the importance of President Putin seizing the opportunity presented by the ongoing discussions between Russia, France, Germany, and Ukraine to reach a peaceful resolution," a White House statement said.
A statement from Kremlin said: "The presidents of Russia and the United States have emphasised the importance of a political – through dialogue – resolution of Ukraine's internal conflict, the speedy cessation of bloodshed, and the protection of the legitimate rights of all Ukrainian citizens without exception, including in the southeast".