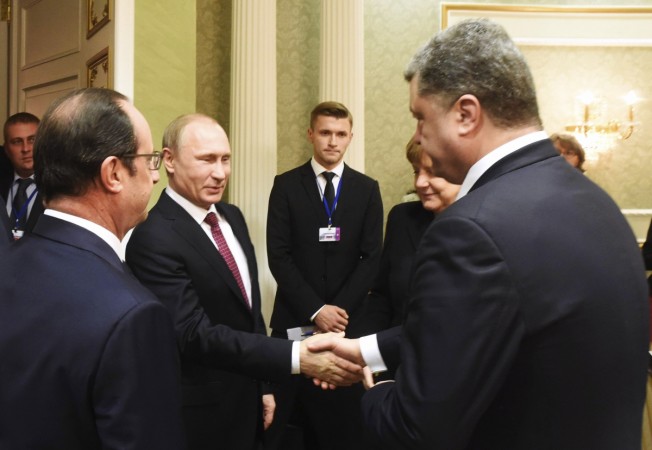 Update 2:45 pm IST: The Russian President has said that a peace deal has been successfully reached at the Minsk summit between the four leaders, Reuters reports. He said that a ceasefire has been agreed to take effect from 15 February, 2015. This comes despite earlier claims by the Ukrainian President that Putin had put up "unacceptable" conditions at the meeting.
Update 1 pm IST: The meeting at Misnk has concluded but the Ukrainian President has said there is " no good news" yet.
"Unfortunately there's no good news yet," he told the AFP news agency adding: "There are conditions that I consider unacceptable...The (negotiations) process is ongoing."
Original Report
Leaders of Russia, Ukraine, Germany and France met in Minsk on Wednesday to hammer out a solution to the war in east Ukraine, but it is doesn't seem they made a headway despite talking through the night to reach an agreement. However, an unnamed diplomatic source told Reuters that the four leaders will sign a document on solving the crisis. No futher details were provided as of early Thursday.
The meeting betwen Russia's President Vladimir Putin, his Ukrainian counterpart Petro Poroshenko, German Chancellor Angela Merkel and France's President Francois Hollande began in the evening of 11 February and dragged on till the early hours of 12 February – in what seems to be a desperate final push by the leaders to find a solution as fighting and bloodshed intensified in east Ukraine. The move comes after Poroshenko warned of installing a Marshal Law if the Minsk talks find no solution to the crisis.
Before the meeting began, Poroshenko reportedly said that the four-way talks held in Belarusian capital were the "last chance" to end the conflict. "Either there is de-escalation, a cease-fire, and a withdrawal of heavy weapons, or the situation gets out of control," he said according to Interfax news agency.
Very little is known about what is emerging out of the meeting in Minsk but a Ukrainian presidential aide, Valeriy Chaly said in a Facebook post that a "battle of nerves" was underway and that the leaders could still talk for several more hours before a resolution is met.
Various reports have noted the lack of "warmth" as Putin awkwardly shook hands with Poroshenko before the meeting started on Wednesday. Although very little is known on what is being discussed, it is understood that the leaders are focusing on securing a ceasefire, withdrawal of heavy weapons and creating a demilitarised zone which either of the parties won't cross.