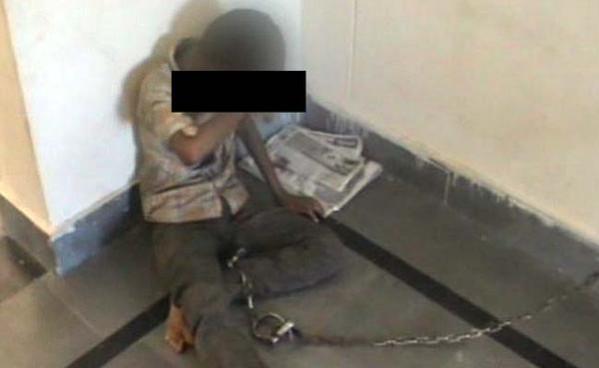 In a shocking incident, a 13-year-old boy was kept chained for nearly five days at a police station in Andhra Pradesh. The minor, a rag-picker, was arrested for stealing a gold chain and has been kept at the Vetapalem police station in Prakasam district.
In a video, the juvenile is seen crying in a corner with his left leg chained to a window.
However, the district police chief Srikant has reportedly said that the boy was kept in chains only for some time when the constable had to go out for lunch.
Officials swung into action and ordered an inquiry on the matter as soon as the video went viral on social media. "The matter has come to my notice. I have ordered inquiry and disciplinary action will be initiated," Srikant told PTI over phone.
Similar incidents have been reported from various parts of Andhra Pradesh and Telangana in the past. A minor was recently chained at the Wardhannapet police station in March 2015 for trying to steal from a fancy store. In another case, the Chandrayangutta police had chained a 13-year-old boy for stealing a mobile phone from a woman in December 2014.
Watch the latest video below: