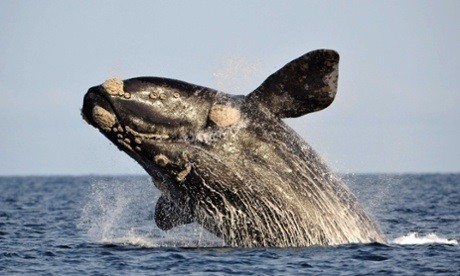 A dead minke whale that was washed ashore the New Jersey beach has tested positive for a virus that most likely was the reason of death for more than 1,200 dolphins that appeared in shallow water or washed up on shores, according to researchers.
The 21-foot dead whale washed up the Atlantic City shores on 1 May. Necropsy test was conducted by scientists and the result was later analyzed by researchers at the University of California, Davis. The tests confirmed that the whale was infected by cetacean morbillivirus, according to Marine Mammal Stranding Center in Brigantine, New Jersey.
The virus is related to measles in humans or canine distemper in dogs, explained National Oceanic and Atmospheric Administration (NOAA).
NOAA after consulting with disease specialists and conducting several tests on dolphins from different states, determined that the death is due to morbillivirus and is most likely the cause of death for 1,283 dolphin "strandings" since last July on the East Coast.
The dolphins that have been either stuck in shallow water or washed up the shores since July last year, are over five times the historic average numbers found in affected areas such as New York, New Jersey, Maryland, Delaware, Virginia, South Carolina, North Carolina, Georgia and Florida, according to NOAA, reported CNN News.
Though some of the stranded dolphins were found alive, most were dead, many of them were in the stage of advanced decomposition. It was found that most of the dolphins had lesions on their mouth, skin, joints or lungs, according to a recent report published on NOAA's website.
The minke whale, is the first whale that tested positive for the morbillivirus in New Jersey. Some have been found affected along the East Coast.
"We've had three humpback whales that tested suspect positive, but we're still waiting for additional lab results. Two pigmy sperm whales have also tested positive. It was unknown whether it's a strain of morbillivirus in whales or if it was transmitted from dolphins." said Maggie Mooney-Seus, public affairs officer for NOAA.
It is still unclear as to how the minke whale got infected with the virus, though researchers are conducting additional tests to find the cause, said Robert Schoelkopf, the director of the Marine Mammal Stranding Center.
"Minke whales don't travel in large groups like dolphins do, so it's still uncertain. We can't inoculate every marine mammal in the ocean," Schoelkopf said.
The virus is fast spreading and there is no way to curb the spread of the disease. Also, at present there are no vaccines or medications that could be administered to the wild marine populations, according to NOAA officials.
Scientists expect that further studies about the virus will help them stop its spread. While the virus is usually transmitted through air or contact with other creatures, it is unlikely to spread among humans.
Earlier on 8 August 2013, an Unusual Mortality Event was issued by NOAA in response to the high number of deaths. The declaration gave "insight into larger environmental issues which may also have implications for human health and welfare," according to NOAA's website.