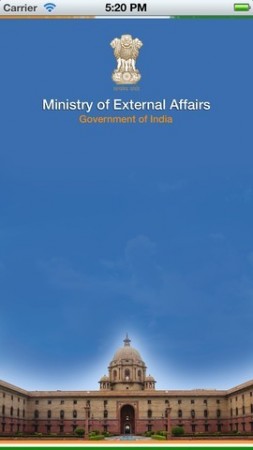 India's Ministry of External Affairs' (MEA) new 'Passport' mobile application, called MEAIndia, is among the top rated applications in the free category of India's Apple App Store.
The application, an initiative by the ministry to provide citizens with assistance for passport and visa applications is receiving an overwhelming response from Android and iOS users in the country. The app has received average user ratings of 4.5 on the Google Play Store and a full 5 on the Apple App Store.
MEA became the first department in the Indian government to launch its own mobile application. It is also the first time a country's foreign ministry has take up such an initiative.
The app, launched on Monday by Foreign Secretary Ranjan Mathai, will initially help users with Passport application. In the next couple of months, the app will answer queries on visa, passport and other ministry-related issues. The MEA has envisioned the app to soon become as a "one-stop shop" for all.
"You plan to travel abroad for work or study and need to legalize your documents? 'MEAIndia' simplifies the steps involved for you and helps you identify the authorized agencies for attestation/apostille of your documents," said the ministry in a press release.
"Be the first one to know the latest developments in our external relations and make your own opinions. Get the latest press releases, speeches and statements, agreements, videos and photographs of all the major events on India's foreign policy right on your smartphone."The application will also provide information about Haj and KailashManasarovarYatra (KMY).
"You can also take a quiz on India's foreign relations and check out your Foreign policy Quotient; win exciting prizes or contribute a question. The first 100 winners will each get e vouchers worth Rs.1,000 redeemable on www.landmarkonthenet.com," the statement read.
To download the app click on the links below.
Android -https://play.google.com/store/apps/details?id=com.mea