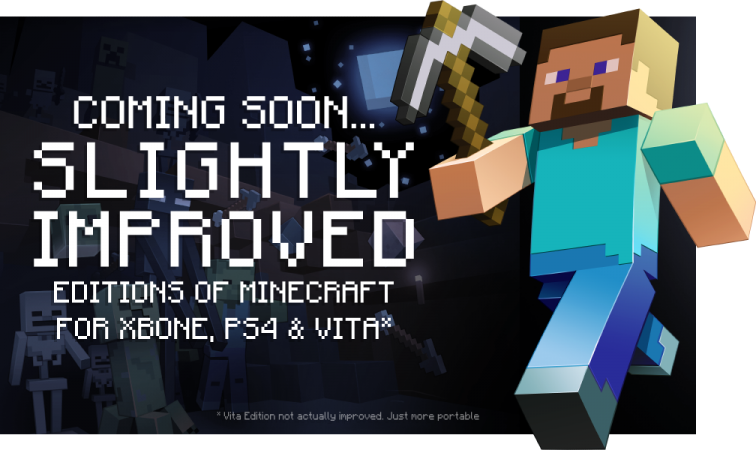 Mojang has showcased what its Minecraft PlayStation 4 edition will get with a new trailer. Minecraft is an open world title where players use their creative abilities to build structures out in the 3D textured cubical world.
The over one minute video shows some of the characters from Sony. Ratchet, Clank and Kratos were all seen bustling about in the game, as were Last of Us' Ellie and a wanderer from Journey. These characters are seen battling zombies and the video ends with one of the characters discovering a giant PlayStation 4 with a DualShock 4 embedded inside.
New Features in PlayStation 4 Edition
Though majority of the game will be similar to what is offered for other consoles, there have been some technical enhancements for the game. New enhancements include:
Substantial increase in the draw distance
36 times bigger world than PlayStation 3 edition
Supports up to eight players in online multiplayer
Supports up to three players in local multiplayer
PlayStation 3 saves can be imported into PlayStation 4 but vice verse not possible
Optional navigation though the DualShock 4 touchpad
Steaming and sharing features on PlayStation 4
"The clever devs at 4J are also taking advantage of DualShock 4′s unique features. You'll be able to navigate all the menus (and craft) by using the touchpad and, of course, share and stream your experiences thanks to PS4′s built-in social thingymabobs. It's all completely optional, so don't worry if you're not keen on moving your thumbs or showing off your skills," said Owen Hill, Chief word officer, Mojang in a PlayStation Blogpost.
The PlayStation 4 edition of Minecraft will cost $19.99 to download but owners of PlayStation 3 editions can 'upgrade' their game for a discounted price of $4.99. The game will be released in August 2014.
Alongside the PlayStation 4 edition, Mojang will also be releasing PlayStation Vita and Xbox One versions. These releases will boost sales of Minecraft that has already sold nearly 40 million units.
PlayStation 3 DLCs
In May, Mojang had introduced Skin Pack 2 for PlayStation 3 edition and when the PlayStation 4 edition will be released, these DLCs and PlayStation exclusives will be also rolling out for the new console.
(YouTube Courtesy: PlayStation)