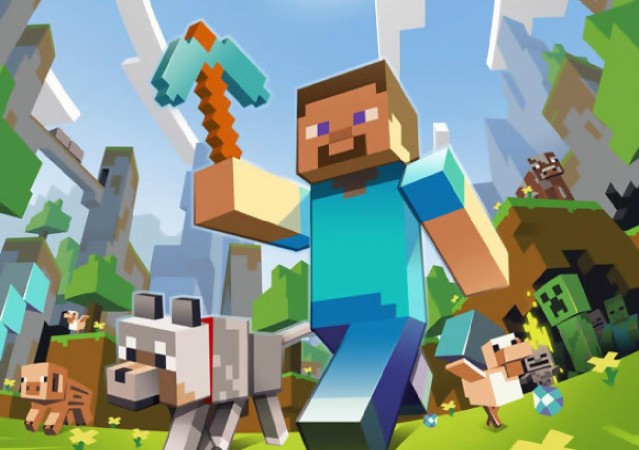 Mojang, the company behind Minecraft, has announced that it has upgraded the Realms in the creative building blocks game. It said in a post that it has updated some of the maps with sound-based challenges, animated lightning swords, or a narrated museum tours.
The post goes on to show the numerous features it has added, like the one below, a ski resort adventure map, 'The Muk-Luk Lodge.'
Below is another such addition called Sharks vs. Steve. This is a map where players will be fighting waves of gold, lapis and laser sharks. It will also feature a custom sound resource pack.
Next is the Point Runner, a fast-paced game that will let players run over the blocks for some points. But sooner the player touches the block, they disappear, so the player cannot stop running. The game will offer players with three set of different maps.
Silent Ville is a survival world between wheat farms. Players here have to see that they are safe, the description provided hints at something lurking behind the farms.
Labyrinth is a 'mind-bender' map that will have several rooms and players will have to find the room with corresponding key colour. Beware, some rooms have traps that can slowdown movement.
Build-off Parkour is a map that combines building and parkour challenges.
A Treemendous Spawn is a survival world featuring a treehouse and flora.
Zomberman is a map that will allow players to set up bombs and blow up the blocks.
Desert Ruins is a survival world with sun-baked dwellings. Players will have to restore life to a lost civilisation.
Bubble Shooter is a shooter game where players try to shoot two blocks of the same colour.
Apart from the above additions to the Realms, there are others like Random Skies, Spindlewood, Splatter and Solitaire.
Mojang also announced that in celebration of the additions, it will be releasing 36,000 14-day trials.
Mojang Updates Snapshot 15w34d
Mojang has announced that it has brought fixes to Snapshot 15w34d in Minecraft. It noted that this has now been released and will fix memory allocation crash from previous snapshot.