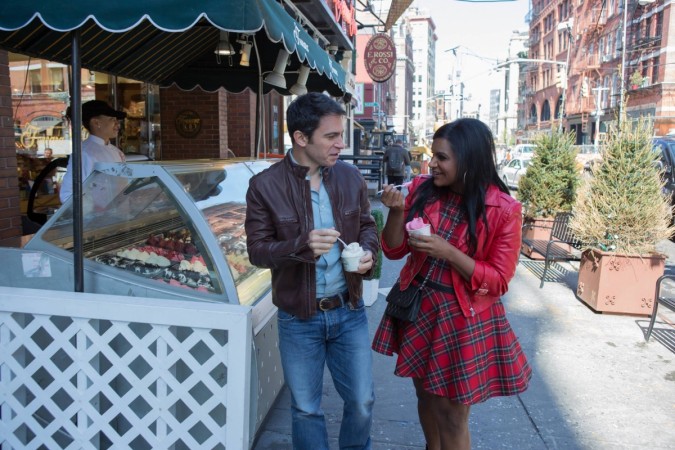 "The Mindy Project" has been on a long and torturous hiatus since it aired Season 4 Episode 13 on Tuesday, Dec. 8, 2015. There is still no official premiere date for Season 4 Episode 14, but we are hoping Mindy (Mindy Kaling) and Danny's (Chris Messina) story continues from March 2016.
In the previously aired "When Mindy Met Danny", the comedy series tackled the serious issue of emotional abuse, while exploring the initial meeting between Mindy and Danny. Danny and Mindy had hated each other in the first meeting, but learnt of each other's good qualities and started getting along.
At that point, Danny had seen how great an OB/GYN Mindy is and had advised her she should not listen to anyone who asks her to stop doing what she loves doing; even if it was Danny who was asking. After reminiscing about the past, Mindy remembered why she was fighting so hard with Danny to keep her job.
Also Read: When will "Modern Family Season 7 Episode 12 "Clean for a Day" air?
Mindy went back to her apartment towards the end of the episode and checked if Leo's crib would fit there. From the looks of it, Mindy is going to move out of Danny's house and move in with her baby into her old apartment.
Although almost every fan of "The Mindy Project" was a Mindy-Danny shipper, now none of them want Mindy to stick with him. The comedy series has started a dialogue among people, and is allowing them to recognise emotional abuse when they see it.
Most fans are sharing their own experiences with abusive relationships on social media, and saying Mindy should walk away. It would be a great example for young girls and even women who are too afraid to take a stand.
Meanwhile, Chris Messina has been suspiciously absent from the sets of "The Mindy Project" Season 4. He is not only MIA from the Instagram posts of co-stars, but also in the set photos shared by fans and paparazzi.
Does this mean Danny may not have a huge part in the second half of Season 4? Share your thoughts in the comments below.