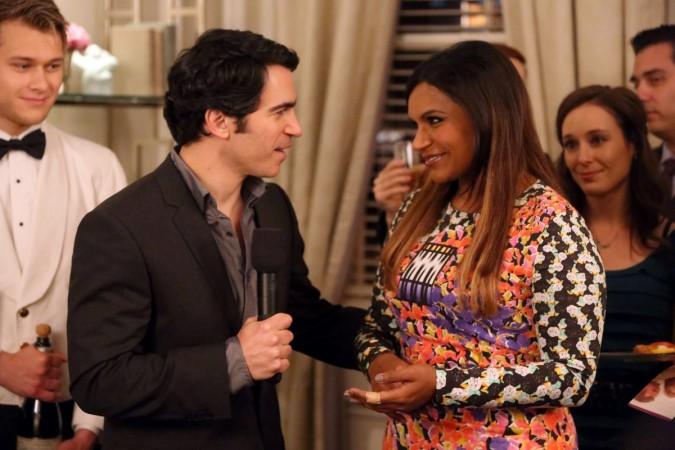 Season 3 episode 19 of "The Mindy Project" named "Confessions of a Catho-holic" will give Mindy a deeper insight to Danny's (Chris Messina) Catholic beliefs and friendship with his pastor, played by Stephen Colbert. The episode might also feature a much-anticipated proposal ahead of pregnancy.
Colbert, exhibiting his spectacular beard, will play Father Michael O'Donne, who Mindy (Mindy Kaling) thinks is "hot as hell" in his dress. The host for upcoming "Late Show with Stephen Colbert" was done with the final episode of "The Colbert Report" on 18 December and has some free time before the Late Show premieres on 8 September in CBS.
Kaling has a habit of including the best guest stars to ever appear of TV shows; for example, Timothy Olyphant, Seth Meyers, James Franco, Seth Rogen, Ed Helms, Kris Humphries, Kris Jenner and so on. With the show's history of bringing out the funniest performances in its notable guest stars, it can be assumed that the veteran comedian will elicit more than just a few laughs.
In the trailer for Season 3 episode 19, Mindy is seen telling Father O'Donne that she enjoyed his speech, he corrects her and says "sermon", before she adds, "It was the best part of the show" - he says "mass". Their comedic rapport is something to watch out for, in "Confessions of a Catho-holic".
Coming soon to #themindyproject: Father Michael O'Donnell. @StephenAtHome pic.twitter.com/njzxjmN99G

— Mindy Kaling (@mindykaling) February 20, 2015
The trailer also suggests that Danny has a great relationship with the father and is seen giving him a hi-five after the dinner prayer. He tells Danny while the trio are chatting in his living room, "I heard you were dating a godless sex maniac," as Mindy visibly winces.
Mindy may really enjoy carnal pleasures and may not be very spiritual, but Catholic Danny still loves his baby mama. Why is he taking her to the church though, and introducing her to his pastor, other than to marry her before their baby pops out? The trailer suggests that the couple might soon get hitched.
Especially since she has moved in with Danny after Dr Adrian (Dan Bakkedahl) started living in her place and with a baby on the way, marrying seems to be the next logical step for the OB/GYN couple. However, whether they opt for a shot-gun wedding or wait for Mindy's "Lahiri Fertility Centre" to pick up the business remains to be seen.
Watch out for Season 3 episode 19 of "The Mindy Project" titled "Confessions of a Catho-holic" at 9:30pm (EST) on Tuesday, 10 March, on FOX.
Watch Preview: "Confessions of a Catho-holic" Below: