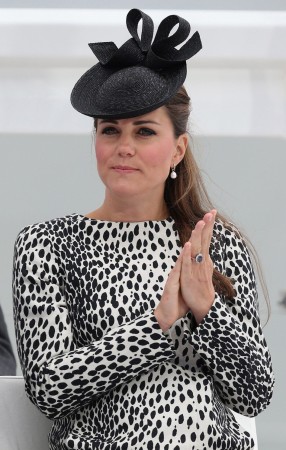 The arrival of the much-awaited royal baby will not only bring joy to thousands of people around the world but also boost British economy, says a report by Centre for Retail Research (CRR).
The royal couple - Prince William and Kate Middleton - may head for the hospital anytime as the due date reportedly fall on Saturday, 13 July. Kate Middleton will check into her suite in the Lindo Wing of St. Mary's Hospital, when she goes into labour.
A new report by CRR said that the birth of Prince William and Kate Middleton's first child, who will be third in line to the throne, may boost retail sales by around £243 million (approximately $376) between 1 July and 31 August, 2013.
A total of £87 million is expected to be spent on festivities, £80 million on souvenirs and toys, and £76 million on books, DVDs and media.
"It is no great surprise that this type of feel good event provides retailers with a welcome boost, with consumer hype generating additional spending," said Professor Joshua Bamfield, Director of CRR.
"One of the biggest factors will be the unintentional Royal brand endorsement. The carriage of choice for the royal arrival will no doubt become this year's best selling pram for new and existing parents. The 'Kate effect' has already taken the fashion world by storm with each of her choices flying off the shelves within moments of her leaving the house. This trend will follow for the heirs baby grows, rattles, first bike and so on," he added.
Kate Middleton is expected to check into her suite in the Lindo Wing of St. Mary's Hospital one of these days as her due date is at hand. The suite is said to be equipped with a television, a radio, telephone, internet, a fridge and other facilities.
The royal couple will welcome their first child amid the Coronation Festival, a four-day event (July 11-14) to mark 60 years since Queen Elizabeth II was crowned, so they may miss the celebrations. Kate Middleton hinted on several occasions that it would be a girl, but Prince Harry reportedly told friends that the royal couple is expecting a baby boy.
They have reportedly started preparing for baby nurseries at Nottingham Cottage and the apartment 1A in Kensington Palace a couple of months ago.