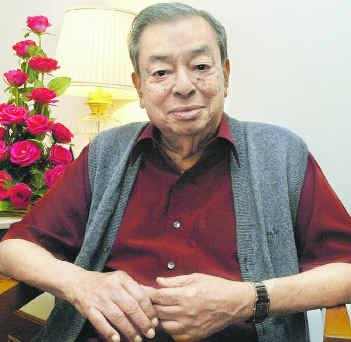 Indian engineer and businessman Dr Verghese Kurien, who is better known for creating the Amul dairy-food brand, passed away on Sunday morning at Muljibhai Patel Urological Hospital, at the age of 90.
Prime Minister Manmohan Singh on Sunday expressed his grief over the sad demise of Dr Kurien, the father of India's White Revolution.
In a condolence message to Dr Kurien's wife, Molly, Manmohan Singh described the creator of Amul as an icon of India's cooperative movement and the dairy industry.
Following is the full text of Prime Minister's message:
"It is with great sorrow that I learnt of the sad demise of your husband, Dr Verghese Kurien.
Dr Kurien was an outstanding and innovative manager and an exceptional human being. His contribution to the welfare of the farmer and agricultural production and development of the country is immeasurable. Dr Kurien was an icon of India's cooperative movement and the dairy industry.
In his long and illustrious career, Dr Kurien set up the Anand model of cooperative dairy development, engineered the White Revolution, and made India the largest milk producer in the world. His greatest contribution was to give a position of pre-eminence to the farmer and his or her interests rather than those of middlemen.
I personally had a rewarding association with Dr Kurien and benefitted from his sagacity and vision. He has left behind a void that would be very difficult to fill. Dr Kurien will always be widely respected and admired for his ability to inspire and bring out the best from ordinary people.
In this hour of bereavement, please accept my heartfelt condolences. May God give you the strength to bear this irreparable loss. I offer my deepest prayers for the peace of the departed soul."
The father of white revolution passed away at around 1.50 am on Sunday and the funeral will take place at around 4 pm on Sunday afternoon, Amul co-op tweeted.
He is survived by his wife, one daughter and a grandson. He was also called "Milkman of India".
He was the founder chairman of the Gujarat Co-operative Milk Marketing Federation (GCMMF) and the National Dairy Development Board (NDDB).
Dr Kurien has won several awards including India's second-highest civilian honour Padma Vibhushan, the World Food Prize and the Magsaysay Award.