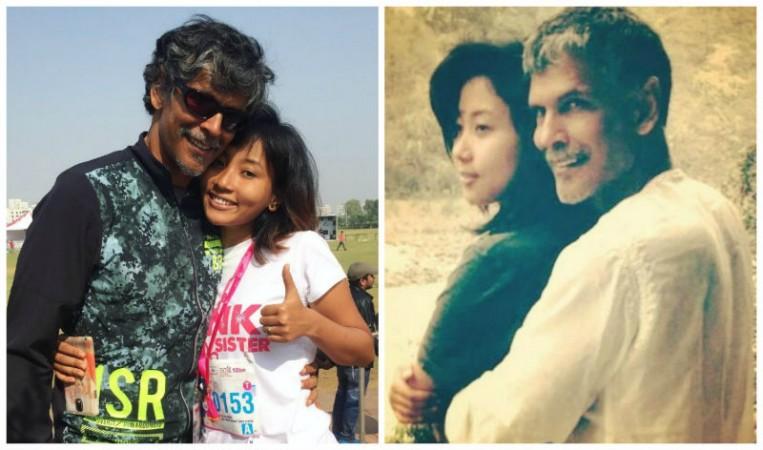 Milind Soman has been in news for his relationship with a girl named Ankita Konwar, who is reportedly just 18 years old. It appears that both pieces of information are wrong; she is neither Ankita nor she is 18 years!
52-year-old Milind has been trolled and criticised for dating a girl who is reportedly less than half his age. Many commented on his pictures with her, calling them "father-daughter". Some even felt that the model-turned actor was just waiting for her to turn adult.
However, latest reports claim that she is older than 18 years, and her real name is not Ankita. Milind's girlfriend is 22 or 23 years old, and her actual name is Sunkusmita Konwar, according to India Today.
The report stated that Sunkusmita has been working with Air Asia as a cabin crew executive since 2013. As the minimum age to get hired by Air Asia as a cabin crew is 18 years, simple mathematics suggest she is 22-23 years old, assuming she joined it at the age of 18 years, the report added.
Although their private life is no one's business, there has been much hullabaloo over this affair. A major section of people couldn't just buy the fact that such a young girl could fall in love with a 52-year-old man.
Many had abused Milind on social media saying that he is taking advantage of his good looks and popularity. However, the "Made In India" song fame remained unaffected by the trolls, and kept on sharing more adorable pictures of themselves on social media.
The new revelation could calm down the trolls a little, and the trollers might start searching for their next target. On the other side, there are good number of people who expressed support for Milind and the young girl, and slammed the trolls for making nasty comments on someone's private life.
Hailing from Assam, Sunkusmita is a fitness enthusiast and Marathon lover, much like her beau Milind.