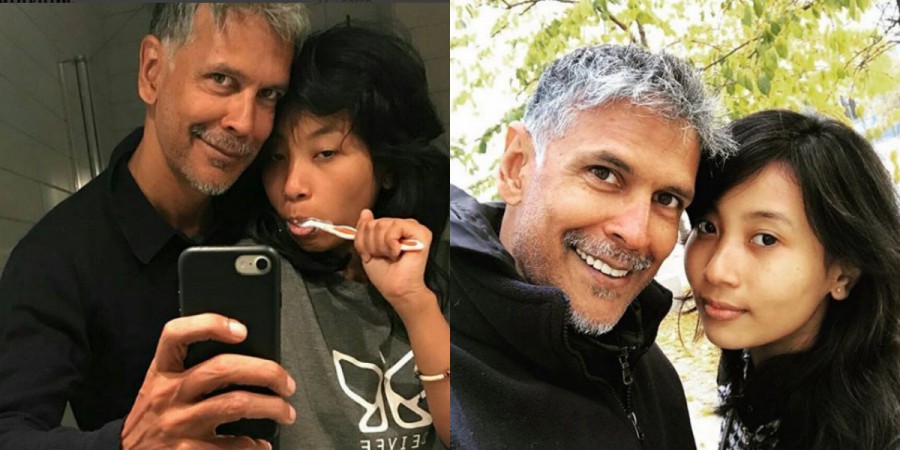 Supermodel-turned-actor Milind Soman turned 52 years old a few days back and was trolled mercilessly.
Why, you may ask? Well, because the handsome hunk is still capable of making many women, even those less than half his age, go weak on their knees. Proving as much, Milind is currently dating an 18-year-old girl.
And to thank his fans for the birthday wishes, he posted a selfie with girlfriend.
But Milind Soman cares a damn. Amidst all the trolling, Milind, who is holidaying in Norway with his girlfriend Ankita Konwar uploaded a series of pictures, including an adorable selfie. He captioned it as: Happy arctic time at my @airbnb home in Oslo and Tromso #livethere #ad #Never2early4aselfie @earthy_5" [sic.]
For those who don't know, Milind attended the Spring-Summer 2018 edition of Amazon India Fashion Week (AIFW) where he was reportedly spotted walking hand in hand with girlfriend Ankita Konwar.
Milind also put up a selfie on social media sharing the frame with his newfound love. Ankita reportedly is 18 and an airhostess by profession. The two also share a love for marathon.
Reports even claimed that Ankita meets Milind's mother as well. The two have been dating for months now.
In an exclusive interview with New York Post, dating expert Tammy Shaklee, founder of match-making service He's For Me, doesn't think the years between Soman and Konwar are a deal-breaker.
"I do believe everyone deserves their special someone, whatever that looks like to them. I do know couples with a 30-year age difference who are genuinely in love. Love is love — as long as it's a legal age, of course."