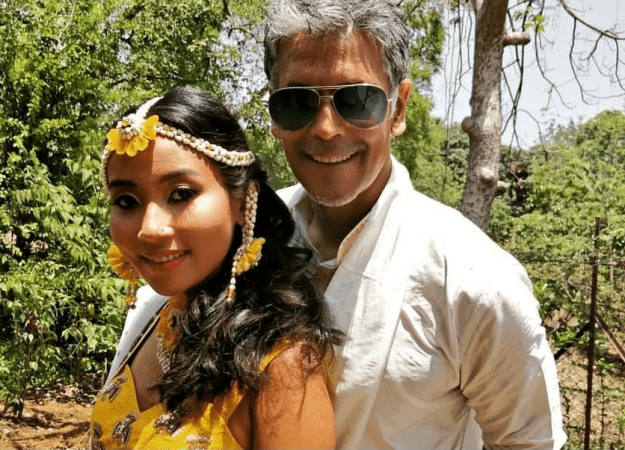 Supermodel-turned-actor Milind Soman's affair with Ankita Konwar has been a hot topic for quite some time. The fact that the girl is almost half the age of Milind has remained a point of discussion. Milind has been trolled and criticized, but the 52-year-old and his lady love remained unfazed by all these.
Finally, Milind and Ankita tied the knot at a private wedding in the presence of good friends and family at Alibaug on Sunday. As soon as the news of their marriage broke out, varied range of reactions started pouring in on social media.
While many are trolling the couple for the age gap, many others are happy for them and are congratulating the two. However, there are some female fans of Milind, who are sad with the handsome hunk's decision to get hitched.
There are many tweets from female fans of Milind, who are envious of Ankita for getting the former as her husband. Of course, the tweets are made out of jest, but this shows the craze of Milind among the ladies even now.
Milind Soman is JUST getting married???
And apparently he is 53 and his fiance is 26. Dude had ALLLL the fun in the world before settling I see?
Remembering the #MadeInIndia video ?

— Sahara (@JustFabulous_S) April 21, 2018
Milind Soman is getting married ?????❤️

— where'smychappal (@bengalikudi) April 21, 2018
Always had a huge crush on Milind Soman. He's even more sexy in person!

— priyanka (@prizzybands) April 21, 2018
Milind Soman ki doosri shaadi ho gayee gai and it wasn't to me ?

— Khizra (@KhizM) April 21, 2018
Model Milind Soman got engaged and I know so many people who are crying.

— Singh Varun (@singhvarun) April 21, 2018
Milind is one celebrity, who truly validates the saying "Age is just a number". His energy and charm make his fans feel like he is just 22 years old. The fitness enthusiast had earlier gotten married to Mylene Jampanoi in 2006, but their marriage didn't last long as they had gotten divorced after 2 years.
Now the "Made In India" song famed star has found the love of his life in the form of Ankita. Like Milind, Ankita too is a fitness enthusiast and marathon runner.
Meanwhile, social media is being flooded with pictures and videos from Milind and Ankita's big day. A number of videos have come up in which the couple is seen dancing to the tune of popular Bollywood songs. Indeed, their relationship and the wedding looks nothing less than a fairytale.