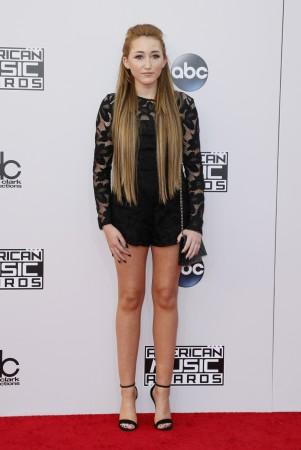 Looks like Miley Cyrus isn't the only one who is famous for posting shocking pictures on the internet. Her sister, Noah Cyrus, is the recent addition to join her club.
But luckily, the younger Cyrus is fighting for a cause. Noah has been part of an ongoing campaign for PETA 2 that is supporting the ban of animal dissection from the classrooms. So PETA had come up with a poster of the ad-campaign that showed Noah looking all pale on the experiment table and her chest has been ripped open to show her inner organs.
The gruesome picture comes with headline, "I am not a classroom experiment." Another caption reads, "Neither are cats, frogs, rats, pigs, or other animals killed for dissection."
The 16-year-old actress is fond of animals and says she felt so scared while lying down on the table and that she now understood how it must feel for all those animals who got cut open in the class rooms. "It kind of was weird being on the table, and the feeling of being about to be cut open. The thought of that happening to an animal would be terrible."
She also mentioned that learning is important, but if there is any other option then the school faculties should definitely opt for it. "You'll learn so much more off of the computer. If you have the other option, why not take it? You should ask your teacher for other human alternatives," she said in the video, which shows the making of the ad.
Both the Cyrus sisters have admitted to being animal lovers. Miley Cyrus owned six dogs, one of which passed away last year and the other was rehomed to another family and she also owns a piglet. Noah Cyrus also has her share of pets, which are mostly rescued from different adoption centres.
Check out the Instagram photo below:
Watch the video, in which Noah Cyrus reveals her opinions about animal dissections in classroom in the making of the ad-campiagn poster.