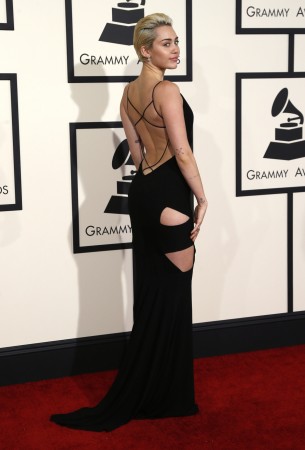 Singer Miley Cyrus is not someone who is afraid to flash some skin to grab attention, and recently she gave fans plenty to look at when she went braless in a mesh T-shirt.
The 22-year-old put her assets on display shortly after she touched down in New York City on Wednesday. Although the art on her T-shirt was supposed to keep her assets concealed, Cyrus managed to give passers-by an eyeful when the logo moved to the side.
However, the "Wrecking Ball" singer did not seem worried, as she posed with fans for selfies before walking away.
Interestingly, Cyrus's wardrobe once again became a talking point the same day while she headed to 1 Oak to celebrate her mother Tish's 48th birthday. She managed to expose some more skin in a red and black satin skirt and bandana wrap top, where her underboob and hairy underarms quickly caught paparazzi's attention.
Over the years, Cyrus has had a number of wardrobe mishaps, as she doesn't always play safe. Last month the singer exposed her breasts during an impromptu photoshoot with pals Tallulah and Scout Willis, and she later posted online a selfie of her naked in the bathtub.
In the last couple of years, Cyrus has tried her best to shed her Hanna Montana image, and there have been reports that her fashion choices was something that caused her then fiancé Liam Hemsworth to reconsider their engagement.
Reportedly, Hemsworth was ashamed and embarrassed of Cyrus' racy wardrobe as well as her provocative antics.
However, Cyrus doesn't regret her recent wardrobe choices. Something she's not comfortable is the hippie outfit that she wore to Justin Bieber's Never Say Never premiere.
"I had some shady wardrobe choices when I was about 16 to 18," she told Marie Claire in its February issue, reported E!Online. "I wore this hippie outfit to Justin Bieber's Never Say Never premiere that I'm like, 'Girl, who told you—it was not Woodstock, it was a premiere.'"