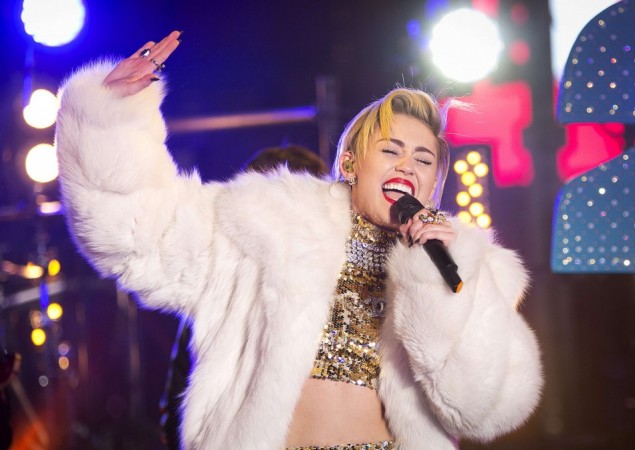 Miley Cyrus recently suffered a major wardrobe malfunction in a video she posted on her Instagram account. In the video Cyrus strips down to a bikini and can be seen doing her staple twerk. However, a wardrobe mishap takes place when her bikini tops slips exposing her assets.
Cyrus is seen tapping her foot to DJ Snake and Lil Jon's "Turn Down for What" in a boat. The video was posted by Cyrus on May 6 and she captioned it as, "Going croque monsieur turndownforwhat yourneck psnocheesejustham imonaboatbitch oturntforonevid"
This video of the "Wrecking Ball" singer has come after she was discharged from the hospital. However, this is not the first twerking video that Cyrus has posted on social media since coming from the hospital
On May 4 she shared another clip with her fans where she could be seen jumping around on the furniture and twerking. She captioned the clip: "turndownforwhatLONDON imbackma yeahLondon."
Reportedly, Cyrus had been hospitalized after a severe allergic reaction to antibiotics and is currently taking a break from her professional commitment and is resting.
"Everyone on her team is bummed that this happened but they're all saying there's a silver lining to this because it's forcing Miley to take a break from partying, she's really detoxing. Her body needed a break and it's getting one," a source revealed to Hollywoodlife.
"What Miley is suffering from is much more than an allergic reaction to antibiotics," another insider revealed. "She's really suffering from the death of Floyd. Floyd was her best friend. She feels like a part of her, a big part of her, has died,"
Cyrus' furry friend Floyd died during her Bangerez tour. The popstar was reportedly devastated after Floyd's death and had shared her grief with her twitter followers
"Today is the 2nd worst day of my life,I don't wanna say it because I don't want it to be real... But my precious baby Floyd has passed away. I am broken," she tweeted.
[ED:VS]