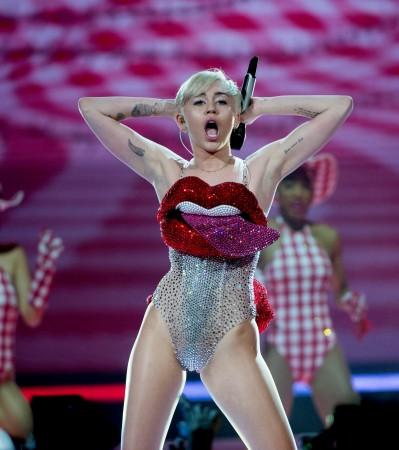 Miley Cyrus recently went topless at the Alexander Wang Fashion Week party. The "Bangrez" singer covered her twin assets with ice-cream pasties and managed to outdo other fashionistas at the NYFW after party.
Cyrus coupled her daring look with a bizarre pair of sunglasses which appeared to be made out of pills. She adorned her chest with glitter and entered the party smoking a cigarette.
At the party, the singer was seen letting her hair down with Kendall and Kylie Jenner, and pal Hailey Baldwin. She was apparently quite confident about her look, as she shared many pictures taken at the party on her Instagram account.
The singer was also photographed kissing designer Alexander Wang. She is also expected to walk the runaway at this year's fashion week and has been working with designer Jeremy Scott.
Meanwhile, Cyrus recently talked about her "Bangrez" tour, saying that her tour is educational for kids despite of her controversial image.
"Even though parents probably won't think this, I think my show is educational for kids," Miley told Brandi of Fuse News, adding, "They're going to be exposed to art most people don't know about. People are taught to look at things so black and white, especially in small towns. I'm excited to take this tour to places where [art] like this wouldn't be accepted, where kids wouldn't learn about this different kind of art."
She also said that she wants to make her show high-end, something like Madonna's shows.
"I want to make things look high-end, like something you would see on Madonna's tour, but make it feel a lot more young."
Cyrus recently confessed that she is still in love with her ex-fiance Liam Hemsworth. The couple started dating on the sets of "The Last Song" and were engaged before they broke-up in September 2013. Though the exact reason for the couple's split is not known, it is speculated that Cyrus' daring attitude and bold stage performances were the primary reason for the split.
Cyrus is said to be single at the moment while Hemsworth has been linked to a slew of stars in the industry, including "The Vampire Diaries" actress Nina Dobrev.