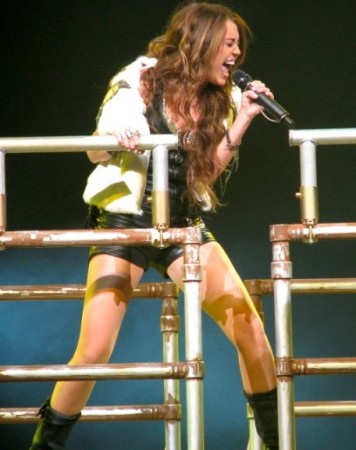 Since her split from longtime boyfriend Liam Hemsworth last September, Miley Cyrus' focus has been on her career. She cut her hair and shed her Disney star image by dressing up provocatively and putting on sexually charged performances.
While many disapproved of her rebellious antics, Cyrus believes that phase helped her become the person she is today. It has given her the confidence to become an independent person, who is not scared to voice out her opinion, or act the way she desires.
But Cyrus is unfazed by the criticism, as she feels this has helped her become the woman she is today.
"When I was with [Liam] or when I was on Disney, the thing that gave me the most anxiety was not knowing what to do with myself when Disney wasn't there to carry me anymore or if I didn't have him," she told Elle on its May issue, according to New York Daily News.
"Now I'm free of both of those things, and I'm fine. Like, I lay in bed at night by myself and I'm totally okay, and that's so much stronger than the person three years ago who would have thought they would have died if they didn't have a boyfriend."
Talking about her much-criticised raunchy performances, Cyrus pointed out the double standards in the music industry saying, "guy rappers grab their crotch all f***ing day and have hos around them, but no one talks about it," reported Miami Herald.
Cyrus has been at the receiving end of a lot of backlash following her controversial MTV Video Music Awards performance where she twerked on Robin Thicke and fingered herself using a giant foam finger.
Her ongoing Bangerz tour, too, has come under criticism for featuring sexual-charged performances where Cyrus prances around in barely-there clothes.
The 21-year-old also talked about battling depression during her adolescent years, saying that her less than perfect features were a source of constant worry. There were times when her father, Billy Ray Cyrus, had to break down her door because she would lock herself in her room and refuse to come out.
(Edited by Vanilla Sharma)