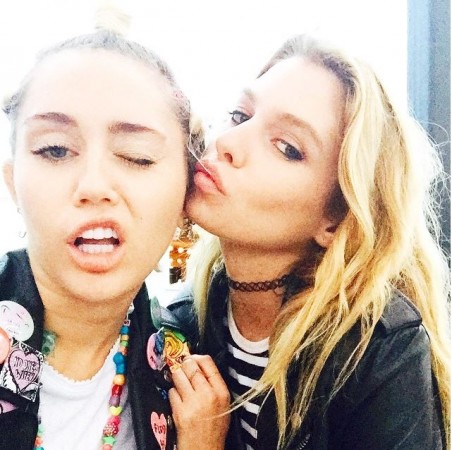 Miley Cyrus and Stella Maxwell have grabbed a lot of attention after they passionately kissed each other in a car park during the singer's music video shoot. Many have been speculating that the two women did it only for the cameras. But latest reports claim their relationship is "real".
The "Wrecking Ball" singer and the Victoria's Secret model have been rumoured to be dating for quite some time now. And after the steamy lip lock last week, all eyes are on the couple.
Earlier reports had said the whole kissing incident was just for public consumption, but the latest claim is that Miley and Stella's relationship is 100 per cent "real" and that the couple are in "lust", not in love.
The crew on the sets of the music video shoot claimed that Miley Cyrus and Stella Maxwell were inseparable the entire duration and that they couldn't keep hands off each other, reports TMZ.
The duo was apparently kissing, caressing and holding hands. Stella even comfortably sat on Miley's lap.
Miley Cyrus called it quits with Patrick Schwarzenegger in April. And she managed to keep her private life off the spotlight. But the singer stirred speculations about being bisexual when she told in an interview that she was comfortable dating women as well.
"I'm not hiding my sexuality. For me, I don't want to label myself as anything. We love putting people in categories, but what I like sexually isn't going to label me as a person. There are times in my life where I've had boyfriends or girlfriends," Miley had said.
And then, Stella Maxwell came into the picture. The two women have hit off very well ever since they got in touch through mutual friends via Instagram.
Well, it looks like Miley Cyrus and Stella Maxwell don't care what people think and are comfortable with whatever they share.