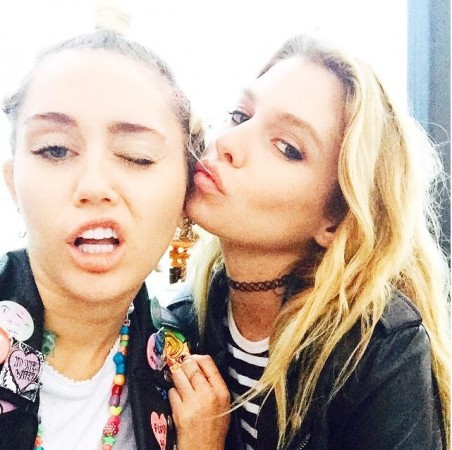 Miley Cyrus is going all out to confirm her bisexuality status. The latest round of pictures on the internet now show the 22-year-old singer passionately kissing her rumoured girlfriend Stella Maxwell in a car park in Hollywood.
According to the reports, the singer and the 24-year-old Victoria's Secret model locked lips being very well aware of the fact that they are being photographed. The rumoured couple apparently looked into the cameras directly and danced around the car park together.
The pictures were sourced by MailOnline, which reported that the pair made out during a break from filming of Cyrus' new music video in Hollywood.
Cyrus, wearing a sequinned gold minidress and knee-high boots, was spotted throwing her arms around Maxwell, who looked stunning in cropped denim jacket and black catsuit.
Maxwell cupped the singer's bottom with one hand and held the "Wrecking Ball" hitmaker by her waist with the other hand. The duo, which indulged in a passionate PDA, was seen whispering to one another.
Cyrus who called it quits with Patrick Schwarzenegger in April has managed to keep her private life low all these months. But speculations went wild when she in an interview expressed being ok with dating women.
"I'm not hiding my sexuality. For me, I don't want to label myself as anything. We love putting people in categories, but what I like sexually isn't going to label me as a person. There are times in my life where I've had boyfriends or girlfriends," the "The Last Song" actress said.
And then Maxwell came into picture, and the two women have been inseparable ever since they got in touch through mutual friends via Instagram.
Well, it looks like Miley Cyrus and Stella Maxwell dating rumours could be true after all.