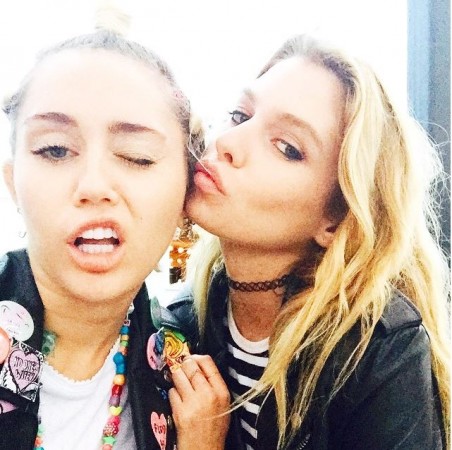 Miley Cyrus and her rumoured girlfriend Stella Maxwell have got eyes rolling with their recent PDA session. But, the 22-year-old singer's ex-boyfriend Liam Hemsworth is not surprised with the sizzling chemistry between the two women.
The web is stormed with pictures of the "Wrecking Ball" hitmaker and the Victoria's Secret model, indulging in an intense make out session in the car park of Hollywood on the sets of Miley's new video, on 30 June.
According to reports, the singer and the 24-year-old model locked lips being very well aware of the fact that they were being photographed.
Well, it looks like Miley is going all out and loud about declaring her bisexuality status. But Liam seems to be least interested in the Miley-Stella budding love affair.
Apparently, Liam labels the kissing incident as: "she's just being Miley", reports Hollywood Life.
"He is aware and nothing surprises him anymore with Miley but he is not heartbroken, he has moved on. But he is aware of the hookup," a source said.
Liam has reportedly chalked out the relationship between the two blondes and he doesn't mind about what's going on. And neither is he intimidated by the relationship.
Well, it looks like Liam has moved on. The report also said that Miley has got an approval from her parents Tish and Billy Ray Cyrus for her relationship with Stella.
"Miley brought Stella home to meet her family and they really like her. Her parents are both on board because they see how happy Stella is making her. They're happy that she's happy, and that's all that matters to them," the source said.
Now, we will have to wait and see where Miley Cyrus and Stella Maxwell take this rumoured relationship.