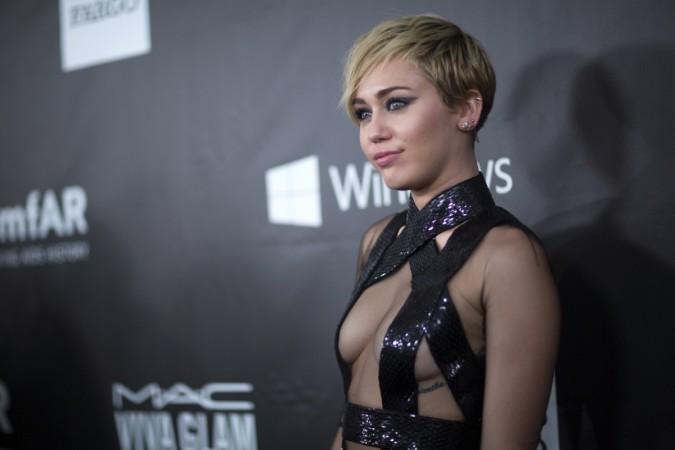 Miley Cyrus has a new beau, and just one month after going public about her relationship with Patrick Schwarzenegger, the singer has sparked rumours that she might be pregnant with his child.
Patrick is the son of Arnold Schwarzenegger and Maria Shriver, and his relationship with the "Wrecking Ball" singer was brought to light after the duo was spotted indulging in public display of affection at a college football game in November.
According to a new Life & Style magazine report, the 22-year-old singer might be in the first stages of pregnancy, and she has reportedly expressed a desire to keep the news as private as possible. There are also claims that this might be why she hasn't reacted to the news on Twitter.
"In late October, she mentioned that her period was late," a friend of Cyrus told the magazine, according to Inquisitr. "She took two pregnancy tests. One came back negative and the other came back positive. Friends are convinced she's in the early stages of pregnancy."
The possibility of this news item turning out to be accurate is not high, but her son's relationship with Cyrus has reportedly caused a lot of worry to Patrick's mother Maria Shriver, who believes the singer could be a bad influence.
"Maria is very, very worried about the influence Miley's having on Patrick. She fully believes that you become who you surround yourself with and she's always been so happy with the friends Patrick chooses, she never saw this coming," a source said, according to Inquisitr.
Interestingly, this is not the first time Cyrus has had to deal with rumours of an unplanned pregnancy. Earlier this year, Life & Style had come out with a similar pregnancy story stating at the time that Cyrus was with child, and she was not sure who the father was, as she had multiple one night stands.
An insider told the magazine that Cyrus was "facing the ultimate consequence: pregnancy!" and that the singer liked "to have unprotected sex."
"I'm sure she forgets to take her birth control pills all the time. I don't think she would even know who the father is, since she has been so promiscuous," the source noted, according to reports.
But that report turned out to be false.