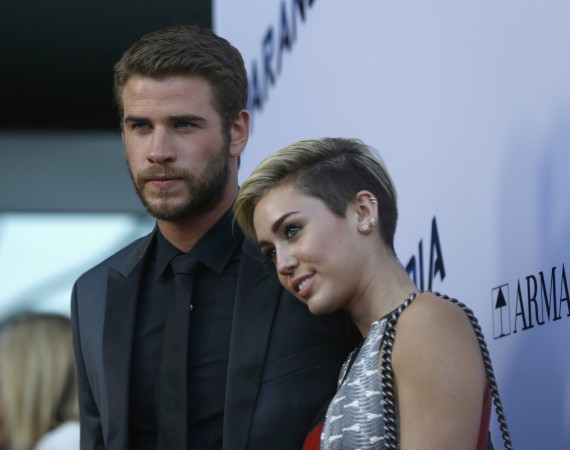 It has only been a few months since Miley Cyrus and Liam Hemsworth rekindled their romance and rumours of the couple expecting a baby has already started doing the rounds.
Supporting the pregnancy claim, Australia's Woman's Day website noted that Cyrus, who is usually scantily clothed, has been wearing "frumpier clothes" and on most occasions she has been trying to hide her stomach behind bulky bags or loose jackets.
Quoting a NW magazine source, Woman's Day reported that the 23-year-old "Wreaking Ball" singer is expecting a baby boy, due in August.
"[Liam] is over the moon. His very own little surfer dude!" said the source. "They feel very blessed. It's a dream come true."
Cyrus and Hemsworth started dating after meeting on the sets of "The Last Song" in 2010. They got engaged soon after, but called it off in 2013 and went their separate ways. They have since reunited and are once again engaged.
"Miley is beyond happy to be engaged to Liam again," a source close to the singer told PEOPLE. "It might seem sudden, but they have been very close for the past few months. They just wanted to keep their relationship out of the spotlight while they figured things out," the source added.
At the time of their split, various media publications speculated that Cyrus' transformation from a Disney star to a wild pop star was one of the contributing factors to their relationship. Since getting back together, Cyrus seems to have toned down her image.
"As far as her image she has already taken huge steps to tone that down, she is much softer and less raunchy these days and that's all because of Liam. And on the other side of things Liam has loosened up a lot, basically they've met in the middle over her image and so far so good," a source told HollywoodLife.