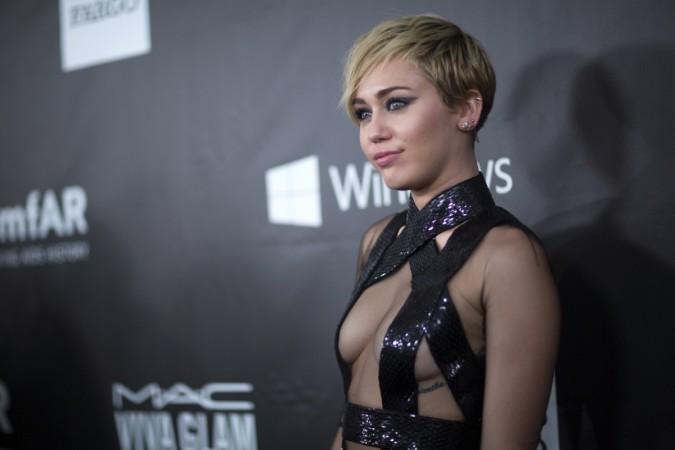 It may be just another rumor but Patrick Schwarzenegger is reportedly not amused with reports of his girlfriend Miley Cyrus being impregnated by pop sensation Justin Bieber once.
Patrick Schwarzenegger, 21, was initially not bothered by reports that Miley Cyrus was once pregnant with Justin Bieber's baby but it has slowly started getting into his head, claimed Hollywood Life in an exclusive report.
"Miley's been going as far as saying that Patrick should adopt the child and that he should practice changing diapers. She's having a few good laughs over all of this and she thinks it's fun to add Patrick to it. Meanwhile, Patrick is treading lightly and not making it look like it's bothering him...but it definitely is," a source told the website.
Life & Style magazine claimed in its 15 April issue that the "Wrecking Ball" singer and "Baby" singer hooked up when Bieber and Selena Gomez were not seeing each other.
However, Miley Cyrus, 22, seems to have found the report of her pregnancy hilarious. She even took to Instagram to have some fun out of it by posting the cover page of Life & Style magazine that has her picture and that of Selana Gomez with the headline: "Miley & Selena Pregnant By The Same Man." "And by the same man we mean @justinbieber," she captioned the photo, making it sound hilarious as the magazine didn't reveal the man's name.
But the story doesn't end there. In what could be seen as a vengeance, Justin Bieber's ex girlfriend Selena Gomez hooked up with Miley Cyrus' ex-fiancee, Liam Hemsworth in 2014, according to Life & Style as reported by Hollywood Life.
"He bragged about it to his friends," reported the magazine. "It was just a one night stand, but Miley had no idea."
Interestingly, Patrick Schwarzenegger was in news recently for alleged cheating scandal after he was caught getting cozy with a girl during Spring Break.