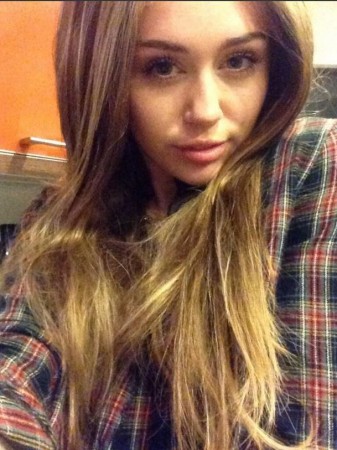 Is Miley Cyrus finally missing her long tresses? The singer tweeted pictures of her trying on new long-hair wigs.
Cyrus shocked her fans last year when she suddenly chopped off her long tresses, opting for a short spiky peroxide crop. Though she was criticised for her new "spunky look", the singer showed no signs of regret and flaunted her new cut. Now, more than a year down the line, it seems like the "Wrecking Ball" singer has finally started to miss her long locks.
Cyrus took to her Twitter on Tuesday to share pictures of herself with long hair. However, this was not the beginning of a Cyrus transformation but merely the star trying out wigs for a Halloween party.
She also donned a purple long haired wig as she fooled around, showing off her flawless skin without a scrap of makeup.
Earlier this year, the former Disney star finally spoke up about why she had opted for such a dramatic makeover.
"Ha, ha. Yeah, when I did it my mom was shocked at first and tripped out - I mean, she's got the whole long blonde hair thing going on - but now she loves it and wouldn't have me with it any other way," she told the MailOnline. "I'm trying to break out of that long hair, big boobs stereotype that women feel they have to conform to. I mean, we're not living in the freakin' 1950s - short hair is OK. Have people really got so little imagination?"
However, in a recent interview with Kelly Osbourne on E! Fashion Police, Cyrus admitted that she wished her hair was growing a little quicker.
The singer is currently celebrating her success from her comeback album "Bangerz" with the album and single "Wrecking Ball" reaching the top of the U.K. sales charts released last week.