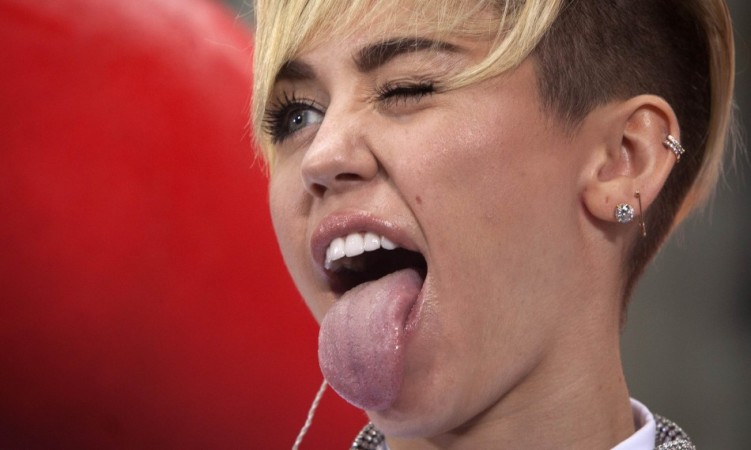 Miley Cyrus was reportedly kissing and making out with Benji Madden at a Halloween party in West Hollywood nightclub Bootsy Bellows on Thursday night.
This is not the first time Miley Cyrus has reportedly engaged in a heavy lip-locking session at a club party. Thankfully, this time round it was with a guy. According to a PEOPLE magazine, Cyrus was seen kissing and making out with Good Charlotte guitarist Benji Madden at a party at West Hollywood nightclub Bootsy Bellows on Thursday night hosted by Adam Lambert. An eyewitness confirmed that it was the host who introduced the two at the party.
"They were really into each other," the eyewitness at the Ciroc-sponsored party said about Cyrus and Madden. "I saw them making out at one point, and his hand was on her legs the majority of the time. They were very touchy-feely."
However, another source close to the singer said no such thing happened between Cyrus and Madden, though they did chat for a while after being introduced to each other for the first time at the party.
"Nothing happened between Miley and Benji," says the Cyrus source. "After being introduced at the club, they chatted but it wasn't romantic. They left the club with a group of people and went to a house party. Miley and Benji had fun together, but they didn't hook up."
Cyrus recently broke up with Liam Hemsworth who she was engaged to. Ever since, the "Wrecking ball" singer has been concentrating on her career and says she's in a very positive place in her life.
"I need to treat my music like a relationship-give it my time and all the attention it deserves-and that's my main love right now," Cyrus recently told Cosmopolitan. "This is the best time of my life. I'm not going to look back on it and be like, 'I wish I hadn't been dwelling over a breakup,' you know? Because that's not what God wants my life to be about right now."
Madden has dated Paris Hilton in the past and has also been linked to Holly Madison.