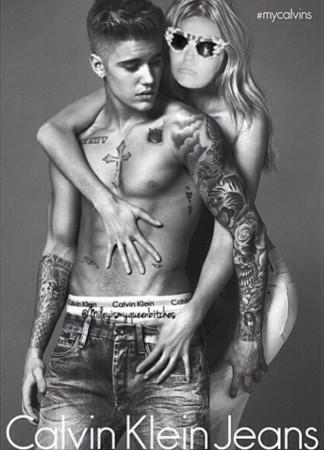 Poking fun at an old friend never goes out of trend, Miley Cyrus just proved it!
Just when Justin Bieber got girls all over the world drooling over his new Calvin Klein campaign where he poses shirtless, flaunting his washboard abs, the 'Wrecking Ball' singer stole his thunder.
Miley, on the same day as Bieber's Calvin Klein ads were released, uploaded one of the ad pictures on her Instagram page, of course with changes, using Photoshop.
She replaced the face of the Calvin Klein female model, Lara Stone, with her own, in which she is seen making one of her funny faces behind wild retro sunglasses. On magnifying the image, one could notice a little something written on the photo, just below the Calvin Klein logo on Justin's underwear. It says: "@MileyIsMyQueenBitches." It is not clear as yet whether Miley herself did this or a fan did it just for fun.
Not just this, Miley uploaded another photoshopped picture, hours later. In the second picture, Miley replaced Stone's face with a sexy picture of her own. The picture was liked by more than 322,000 Instagram users and more than 145,000 people commented on it.
Miley has spoofed Bieber earlier as well.
In 2011, she did an imitation of the 'baby' singer on 'Saturday Night Live', while SNL cast member Vanessa Bayer played Miley on the skit series – 'The Miley Cyrus Show' – which is now pretty famous. Bieber got back at Miley when she hosted the show in 2013. He featured in the same skit series playing the role of the president of the Miley Cyrus Fan Club. That's not it! He also played a prank on her in 2012 when he "punk'd" her on Ashton Kutcher's MTV show – 'Punk'd'.
Bieber is not the only recent victim of Miley's pranks. She also photoshopped herself into American author Joan Didion's new Céline ads. Replacing the the author's face with her own, she captioned the picture: "#JoanDidion @thelovemagazine bad ass."
Miley also photoshopped her childhood face on Queen Elizabeth II and Madonna. We are pretty certain that Miley's pranks are supposed to be in good humour. Let's see who is her next Instagram victim.