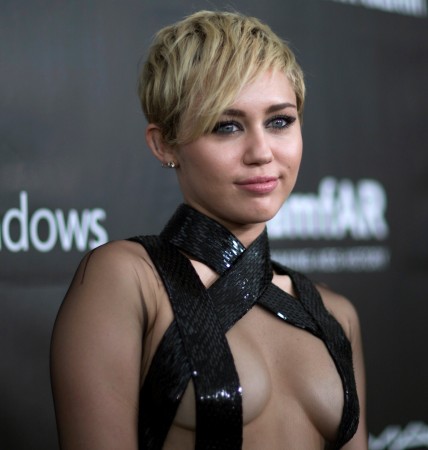 Miley Cyrus publicly kissed her new boyfriend Patrick Schwarzenegger at the USC football game on 13 November at the Los Angeles Memorial Coliseum. The rumoured couple exhibited their love openly thus confirming the news of their romance.
The twosome was seen in each other's arms as Schwarzenegger recorded the cosy moment on his phone. Later, Cyrus leaned on the young model's shoulder and posed for a selfie session, according to Daily Mail. The duo had come to see the match between Trojans and CAL Bears.
Cyrus and Schwarzenegger have been creating ripples with their romance since Halloween. They were first spotted together celebrating the festival. Since then they have gone on various dates. On 12 November, they were seen sharing a cosy moment at Schwarzenegger's mother, Maria Shriver's Q&A session for her film "Still Alice". Cyrus was dressed in a white coat as she huddled with the model.
The "Bangrez" singer has also met Shriver and Schwarzenegger's sister.
"Miley is very happy. That was the first time she met his mom and it went well. She was super nervous, but they were all really nice to her, she's so relieved. She has met Patrick's sister before and she's always been nice to her, but Miley was nervous about meeting his mom for obvious reasons," a source told Hollywoodlife.
Cyrus, it seems agonized over dressing appropriately for the occasion.
Shriver is said to be "warming up to the idea" that her son is dating Cyrus. She reportedly wants her son to focus his attention on other things rather than Cyrus. However, Shriver would not say anything "negative" about the singer.
"Maria's never going to come out and say something negative about Miley — that's not her style — but she is pressuring Patrick to drop her," the source revealed. "It's a big concern."
Cyrus has dated Liam Hemsworth in the past. The two were in a long-term relationship from 2009 to 2013. They were engaged before they called it quits.