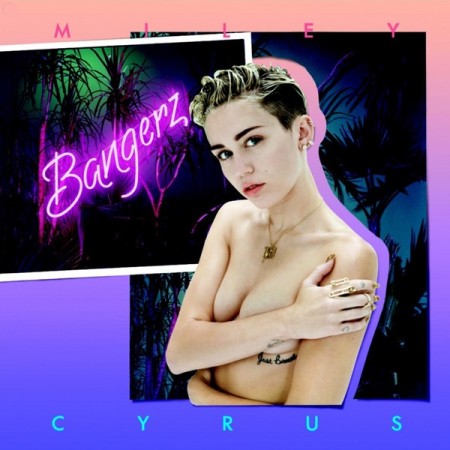 Miley Cyrus poses topless in the new alternative cover for the deluxe edition of her latest album "Bangerz".
According to Miley Cyrus, if you have it flaunt it! After releasing a string of album covers for her latest record "Bangerz", the former Disney star still thought her fans deserved more. So Cyrus has released a new alternative cover for the deluxe edition of her album where she is seen posing topless.
In the picture, Cyrus has her hands crossed over her breasts, wearing nothing but a gold chain and locket. Her tattoo under her left breast is fairly visible as the singer strikes a seductive but straight-face pose.
Cyrus has left it up to her fans to vote for the picture that will finally make it to the cover of the album, which is due out October 8. Fans can visit her website and choose the picture they think is the best. This new topless picture of the singer is one of the five options available to fans. Other pictures include Cyrus in more covered-up avatars. In one picture she rocks a black leather jacket while in another she wears a white cropped top and a pair of black and white checked pants.
This is Cyrus' fourth studio album and her latest single "Wrecking Ball" has already hit No. 1 on the Billboard Hot 100 chart this week. The single came with its fair share of controversies and Cyrus' stripped to bare nothings for the video of the song. This, however, didn't stop fans going bananas over the latest single, which beat the likes of Katy Perry's "Roar" and Lorde's "Royals" to earn its top position on the Billboard charts. The deluxe edition of "Bangerz" will feature three additional songs, "Rooting for My "On My Own (feat. Pharrell)," Baby" and "Hands in the Air (feat. Ludacris)."
Meanwhile, Cyrus' love life also seems to be on shaky grounds, with former fiancé Liam Hemsworth and her calling off their engagement and Hemsworth being spotted kissing another woman just days after the break up.
Nevertheless, amid all this turmoil it seems father Billy Ray Cyrus is still so very proud of his daughter.
"She's just Miley," Billy Ray Cyrus, told CNN. "She's an artist. She's real. I think that what's happened over the years, Miley has been reinventing her sound. She's evolving as an artist herself. I think that all of what everyone is calling controversy now, that's still my Miley."