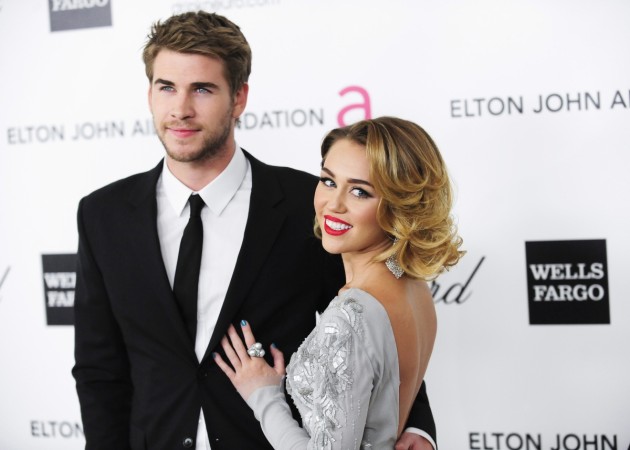 Miley Cyrus and Liam Hemsworth are engaged again and their wedding date is nearing, but the singer is anxious about tying the knot with her beau. According to a new report, Miley, 23, is reportedly having "second thoughts."
Ever since Miley and Liam rekindled their romance in late 2015, the singer has been spotted nearly everywhere with an engagement ring "The Hunger Games" star gifted her back in 2012. But it's not just the ring she wears proudly, she has embraced his family as well.
The "Wrecking Ball" singer has, of late, clicked several pictures with Liam's family, spent time in Australia and was even seen at his brother, Chris's movie premiere of "The Huntsman: Winter's War." His family will no doubt be present at their summer wedding but Miley is apparently reconsidering her decision to marry Liam.
"She and Liam are not seeing eye-to-eye on things right now and she is starting to realize that she could be living a lie for the rest of her life!" a source said.
According to the source, most of Miley's anxieties have risen from the fact that she has made a lot of effort to fit into the person he wants to be with. However, the singer is wondering if she can ever do that.
"Liam seems to want Miley to be this squeaky clean housewife and she just is not," Radar Online quoted the source as saying.
Miley is apparently not ready to settle down and have kids but the couple does look loved-up in their recent outings. Miley and Liam were spotted on a dinner date at Nobu, Malibu. The two, who met on the sets of "The Last Song" and fell in love in 2009, left the restaurant together.
Miley and Liam are rumoured to get married on an Australian beach in the summer of 2016.