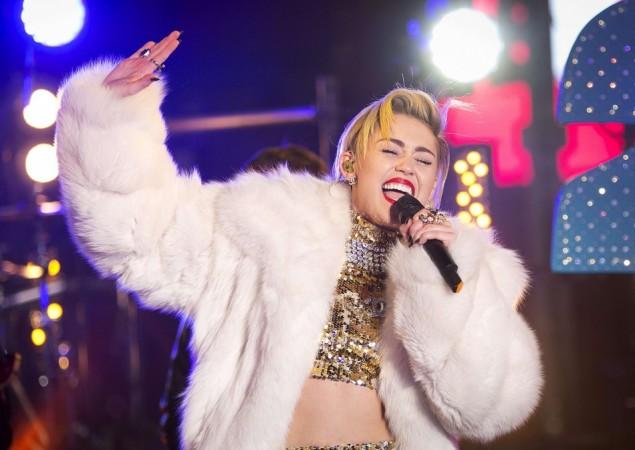 A hoax report, claiming that singer Miley Cyrus died of a drug overdose in her LA House, turned out to be an epic fail as most of her loyal fans refused to believe the false news.
The hoax surrounding Cyrus, also known for her roles in "Hannah Montana" and the "Last Song", attracted a lot of attention from the fans.
While most didn't believe the rumor, the report was widely circulated.
As per a report in Epoch Times, which is known for carrying such "incredible" stories, the actress' alleged demise gained traction on Friday, after an "R.I.P. Miley Cyrus" Facebook page attracted nearly one million of "likes".
The "About" section on Cyrus death page narrated an almost believable tale of the actress' death.
"At about 11 a.m. ET on Friday (July 18, 2014), our beloved actress Miley Cyrus passed away. Miley Cyrus was born on November 23, 1992 in Nashville. She will be missed but not forgotten. Please show your sympathy and condolences by commenting on and liking this page," the hoax claimed.
The false death report, however, failed to trick anybody. Instead many fans started pointing out that such pranks are not funny anymore. According to Mediamass, which cited the Celebrity Post survey, a large majority (72 per cent) of audiences think "Miley Cyrus death rumors are not funny anymore".
This is not the first time that a death hoax has been pulled on the 21-year-old. Back in August, thousands of loyal fans of the young, talented singer fell for a hoax that claimed that Cyrus had committed suicide by hanging herself at her residence.
Similarly, Cyrus "died in a road accident" in 2012, following which the actress in her Twitter account requested the social media providers to take responsibility to curb such false reports.
Twitter Reactions to Miley Cyrus Death Hoax:
Why does "Miley Cyrus died" show up when I search Miley. I know it's not true but thats not even a funny joke. It's sick. #MileyCyrus

— Samantha (@samiheart91) July 20, 2014
OMG guys. I was on fb and I saw someone shared a link that miley cyrus died due to a overdose. I almost passed out. I'm glad it's not true — Chris tarver (@TarverChris) July 20, 2014
'miley cyrus died cos overdose' haha the media makes me giggle

— (@DREWSFIRES) July 20, 2014
If you actually believe Miley Cyrus died you need help — Arooj (@aroojxD) July 19, 2014
They're saying miley cyrus died of an over dose ?! lmaaao. #Lies

— Julene. (@julenedeanne) July 19, 2014