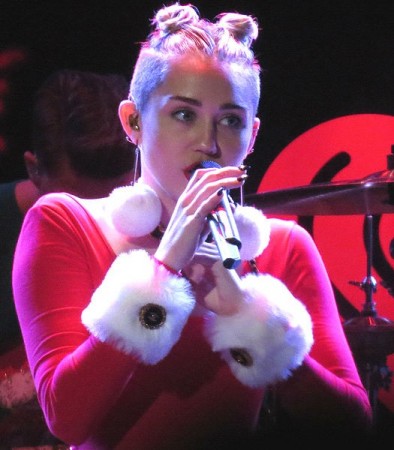 Miley Cyrus was moved to tears as she took the stage in Boston on Wednesday night. Cyrus sang Fleetwood Mac's "Landslide" in remembrance of her late furry friend Floyd and wept throughout the emotional performance. Before going for the performance, Cyrus had already told her fans that she won't be able to put up a normal show this time.
"I'm sorry in advance if I am not myself tomorrow Boston," she wrote on her Twitter account. "I will try my best to be my best."
Cyrus lost her beloved dog a day before the show on Tuesday and she informed her fans about Floyd's death through Twitter. In a devastated state. Cyrus even wrote, "What you don't understand is he's (Floyd) not in a better place," she wrote Wednesday. "The best place he could be was with me ... where he was loved more than anything, " reported NYDaily
While performing on the stage, Cyrus said that it would be difficult for her to sing the next song, as she is not feeling great.
"It's gonna be hard for me to sing this next song," she told the audience. "I'm not sounding myself, I don't feel myself. I just want to do a song for him. We used to always listen to Fleetwood Mac together. This is his favorite song ... so I wanna do this song for Floyd. This song is 'Landslide.'"
Cyrus fans were devastated to know that Floyd had passed away as he was the closest pal of the singer. Over the past years Cyrus had posted several photographs of Floyd on her social media account and it will indeed be difficult for her to move on from such a great loss.
Her fans prayers are with her and they hope that Floyd rests in peace.
(Edited by Vanilla Sharma)