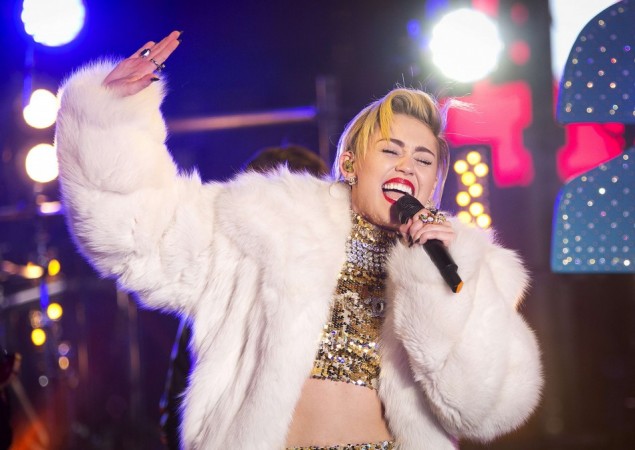 What if we tell you that Miley Cyrus could become Justin Bieber's dad's girlfriend? Buzz suggests that since breaking-up with long time beau Liam Hemsworth, Cyrus has developed a taste for older men. Apparently, a couple of weeks ago she was spotted hanging out with Justin Bieber's dad Jeremy Bieber.
"Justin and Jeremy rented a suite at a hotel in LA a couple of weeks ago and had a bunch of people over. Miley was there partying hard, and she and Jeremy ended up in one of the bedrooms together for over an hour, " Sugarscape quoted a source.
While Cyrus' fans can't imagine the possibility of her romancing Jeremy, it might also be possible that the duo are just friendly and cordial with each other.
However, a source further revealed that Justin is all up for it and he does not mind hooking up his dad with women.
The dates of the incident are not revealed and it could so happen that the rumor is fake. A source apparently revealed to another website Gossip Cop that the rumor is "absurd" and "laughable".
Since breaking up with Hemsworth, Cyrus has been busy with her career. Since February she has been on Bangerez tour has been visiting places including N. Carolina, Washington DC, Michigan and Ohio. There has been no spotting of Cyrus in L.A in the recent weeks.
Meanwhile, the singer was hospitalized last week after harboring antibiotic allergy. Reports have suggested that ex -fiancé Hemsworth reached out to Cyrus in the hospital as he still cares about her.
"He was extremely worried when he heard she was in the hospital. They didn't work out as a couple, but he still wants to know she's okay," HollywoodGossip quoted a source.
The source even claimed that Hemsworth and Cyrus had a brief conversation.
Cyrus has postponed her tour dates and there is no official confirmation as to when she will be discharged from the hospital.
[ED:VS]