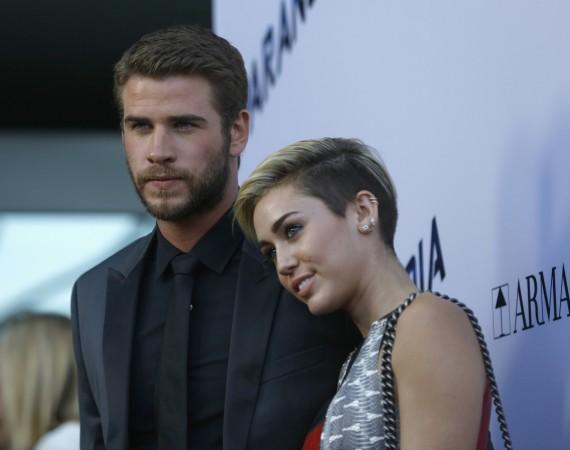 It won't be wrong to say that Miley Cyrus has changed a lot since she rekindled her romance with Liam Hemsworth in January.
According to a Us Weekly report, the "Wrecking Ball" singer has ditched her party-loving crowd and toned down her crazy antics so as to avoid ruining her relationship with the Australian actor. Reportedly, one of the reasons that drove the couple to part ways in September 2013 was Cyrus' sexualised stage performances and wild child ways.
"She either doesn't answer their calls or says she's not going out," a source told the media outlet. "Liam never liked that she got crazy, so Miley's making big changes. She doesn't want to screw it up."
After spending more then two years apart, Cyrus and the "Hunger Games" actor were spotted getting cosy at the Byron Bay Falls Music Festival in Australia on Jan. 3, sparking reconciliation rumours.
Since getting back together, Cyrus has been spending a lot of time at her fiance's house in Malibu.
Cyrus "has been cooking and cleaning for Liam, waiting on him hand and foot," said the source. "She wants to make sure she keeps him."
However, something that could be a deal-breaker is Cyrus' alleged addiction to marijuana. According to a InTouch Weekly source, Hemsworth has asked her to quit pot.
"They recently had a huge fight. Liam told Miley he wants her to quit pot," an insider told InTouch Weekly, according to HollywoodLife. "He can't believe how often she gets high. Every day Liam comes home and the entire house reeks of weed," the source continued. "He's so annoyed."
The source further added that Cyrus' pot addiction has strained their relationship.