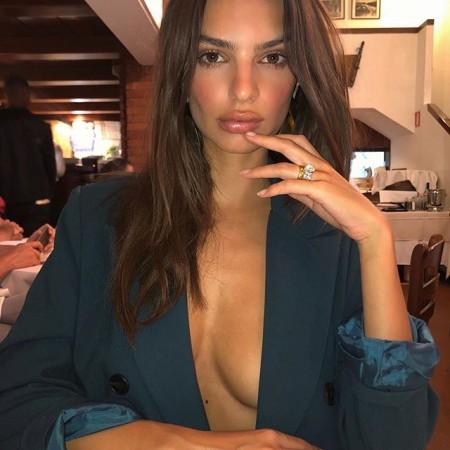 Emily Ratajkowski, 27, does not shy away from showing off her breasts on the ramp or on social media. The model went braless in Italy after she attended the Milan Fashion Week.
The model-turned-actress showed off ample assets in a teal blazer and black shorts soon after she set the ramp on fire at the Milan Fashion show.
She matched her outfit with a knee-high snake print boots, a blue clutch bag, and long gold earrings paired with black sunglasses. She let her straight brunette hair down and wore a simple yet glamorous make-up.
The actress later uploaded a picture on Instagram in the same outfit showing off her plunging cleavage.
Emily is currently busy with the Milan Fashion Week that began on Friday which goes on until Tuesday. She walked the ramp along with Kendall Jenner and others. The two models looked like twins while exhibiting Versace dresses.
Emily did not expect to become a famous model as she was only looking at modelling as a day job before she could go back to school. "To have something that I was just viewing so much as a 9-5 job turns into something I really was not expecting was super surprising," she was quoted as saying by Daily Mail.