We did not see that one coming! Things between Mila Kunis and Ashton Kutcher have been heating up for quite some time. A day before Valentine's Day, Mila posted a really mushy picture of the two. And now, in the latest one, Mila - who has known Ashton since 'That 70's Show' days - was spotted with an oval cut diamond ring, which is definitely over 2 carat.
Does that mean that Mila, who has been dating Ashton since 2012, is now engaged? The engagement news was first reported by E! News. See pictures here.
The two actors, who have previously been very private about their relationship, have been seen posting cuddly pictures on Instagram of late. On Wednesday, 26 February, the day before the engagement ring showed up, Mila posted a photo to her Instagram account saying, "i love you @kutcher78".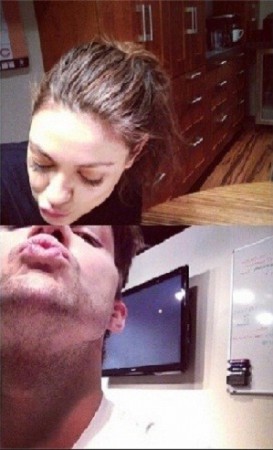 The internet was abuzz after reports emerged that Mila and Ashton may be planning a wedding soon.
Here are some Twitter reactions:
OMG! @aplusk and Mila Kunis are engaged. We hope they get some inspiration from their 'That 70s Show' wedding. pic.twitter.com/3Adq4OsPDF

— ASOS (@ASOS) February 28, 2014
Mila Kunis and Ashton Kutcher getting engaged was bound to happen since Jackie and Kelso pic.twitter.com/3y3Q2lippX — Cyn Garza ❁ (@Cyn_kay7) February 28, 2014
Congratulations to Mila Kunis and Ashton Kutcher who are getting married! They make a great couple.

— Phoebe Shafinaz (@PhoebeShafinaz) February 28, 2014
How cute are these two! Congrats to Mila Kunis and Ashton Kutcher for getting engaged. http://t.co/zvoR9LyKIF — The Edge (@TheEdgeNZ) February 28, 2014