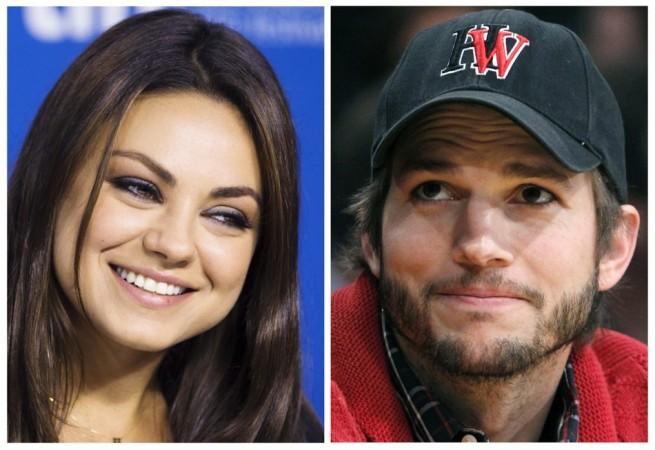 Mila Kunis, who is pregnant with her first child with Ashton Kutcher, was reportedly rushed to hospital though her due date is later this month or in early September.
The 30-year-old actress was recently rushed to hospital for her delivery, according to Celebdirty Laundry citing a report by OK! magazine. The cover of the latest issue shows Kunis flaunting her baby bump in a blue dress with the caption "Mila's dramatic delivery". It also suggests that Kunis' partner Ashton Kutcher got furious when his ex-wife Demi Moore sent flowers to the couple.
The couple is excited by the prospect of turning parents and Kutcher has even stocked a fridge full of things to satiate Kunis' cravings.
"Ashton and Mila are getting so excited. Ashton is a kid at heart. He can't wait to do tons of stuff with the baby. [Mila] is feeling good and things are going smoothly," a source told People, adding, "She does feel pretty big lately and can't do much because it's harder for her to move around."
Kunis was recently spotted shopping for groceries in L.A. It is also understood that he is doing the entire running for the errands as Kunis' due date is approaching.
"Ashton does errands alone so Mila can stay at home," the source added. "He seems to take great care of her!"
Moreover, Kunis loves her pregnancy figure. She suggested in one of interviews that her vital stats have changed and she is quite happy about the same. She is apparently happy with her fuller breasts.
"They're amazing! They've tripled in size. I was a 34A; now I'm a 36C. I'm so excited! I'm telling everyone I know, 'Go ahead, touch them!' Without being an a*****e, I have to say, I love being pregnant," she said in an interview to Marie Claire.
Kunis and Kutcher made their relationship official in February when the latter proposed to the "Jupiter Ascending" actress. They shared the screen space in "That 70's Show". Before coming into a relationship with Kunis, Kutcher was married to Demi Moore.
Meanwhile, Kutcher is likely to become a very good father as he loves kids.
"Ashton has been excited every time we had a child actor on set," said the actors' "Two and a Half Men" co-star Jon Cryer. "He loves kids and could not be more stoked to have a child."