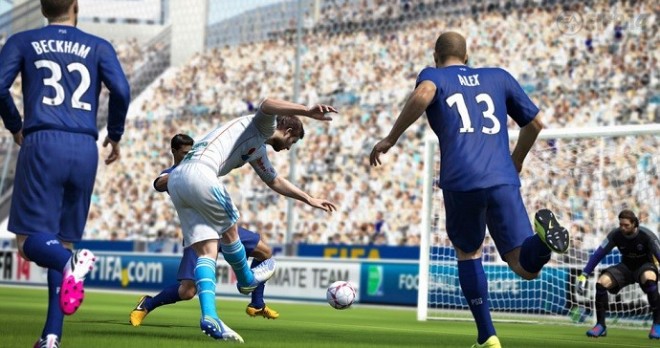 As EA's popular video game FIFA 14 nears release day, Milestone Interactive, the Indian game marketing, retail and distribution organization has announced that the game will be rolled out in India on Sept. 26 midnight across 10 Indian cities.
FIFA series of video games have gained in popularity in India though Indians have a natural affiliation with cricket. But over the years the popularity of football has grown in countries outside Europe and South America.
This will be the biggest FIFA title release until now in the country. Milestone Interactive, the country's leading publisher and distributor revealed that this upcoming title will start rolling out 11:45 pm onwards on Sept. 26.
The lucky cities include Mumbai, Pune, Chandigarh, Ludhiana, Gurgaon, New Delhi, Bangalore and Chennai.
Fans attending the midnight launch will also be eligible for some exclusive goodies, such as the lenticular "Lionel Messi" FIFA 14 steel book.
FIFA 14 is one of the most eagerly awaited games and will be powered by Ignite Engine. It will also boast of over 60 stadiums and 32 real-world venues. FIFA 14 will also be including licensed Brazilian, Chilean, Argentinian football clubs and Brazilian, Polish and Wales national team have also been licensed to participate in the video game.
The video game will have Lionel Messi on its global covers.
The game is set for launch on Sept. 24 in North America for PC, Wii, PlayStation 3 and Xbox 360. It will also be on iOS and Android devices. Its PlayStation 4 version will be releasing on Nov 15 and Xbox One on Nov 22 in North America.
Venue Locations in India (Gamepur):
West
Game4u, Mega Mall, Oshiwara, Mumbai
Game4u, Infiniti Mall, Malad (West), Mumbai
Game4u, Linking Road, Bandra West), Mumbai
Game4u, Viviana Mall, Thane
Landmark, Inorbit Mall Vashi, Navi Mumbai
Landmark, SGS Mall, Pune Camp, Pune
Landmark, Phoenix Market City, Viman Nagar Pune
Gadgets, Fergusson College Road, Pune
North
Game4u, Elante Mall, Chandigarh
Game4u, MBD Neopolis Mall, Ludhiana
Game4u, MGF Metropolis, Gurgaon
Landmark, Ambience Mall Vasant Kunj, New Delhi
New Planet, DLF Promenade Vasant Kunj, New Delhi
F.O.G., DLF Place Mall Saket, New Delhi
Musicland, PVR Complex Saket, New Delhi
South
Landmark, Forum Mall Koramangala, Bangalore
Landmark, Orion Mall Rajajingar, Bangalore
Landmark, Chennai Citicentre, Mylapore, Chennai