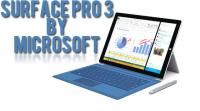 Tablets are slowly losing their appeal to consumers as shipments dropped 3.2 per cent during Q4 of 2014, marking the industry's first year-over-year decline. Citing this catastrophic change, Microsoft is making an offer to bring a change.
Shortly after the company decided to discontinue the production of its Surface 2, Microsoft is offering a temporary discount on four of its Surface Pro 3 models.
The entry-level Surface Pro 3 64GB with an Intel i3 processor remains immune to the discount but the higher versions get flat $100 off on the original price. The offer will end on Saturday, 7 February. In addition, buyers of any Surface Pro 3 tablet - including the base variant - will get a free protective sleeve to hold the tablet. This offer will last through 5 April.
According to Microsoft's online store, the discounted prices of the Surface Pro 3 models are as follows:
Intel Core i5, 128 GB: $899 (Original price: $999)
Intel Core i5, 256 GB: $1,199 (Original price: $1,299)
Intel Core i7, 256 GB: $1,449 (Original price: $1,549)
Intel Core i7, 512 GB: $1,849 (Original price: $1,949)
Let us refresh your memory about the specs that embrace the Surface Pro 3. It includes a 12-inch ClearType display with a screen resolution of 2160 x 1440. All models on discount either run on Intel's i5 or i7 processor with 4GB or 8GB RAM to back up the respective models. The Intel i5 models feature Turbo Boost Technology clocking processor speeds at 2.9GHz with Intel HD graphics 4400, while the i7 runs up to 3.3GHz with Graphics 5000.
All 2-in-1 tablets run on Windows 8.1 Pro and sport 5MP Full HD front and rear facing cameras. With web browsing, the tablet is expected to run for 9 hours. There are necessary ports to transfer files via full size USB, microSD card along with other ports for headphones, charger and detachable keyboard.
Microsoft boasts that its Surface Pro 3 is lighter and thinner than MacBook Air. The company also offered a trade-in program for the Air, but has since ended.